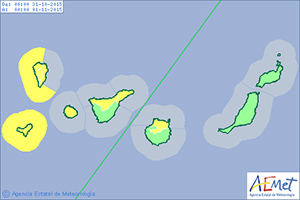 Today looks like a pretty standard Autumn day in Gran Canaria with clouds growing over the highlands during the day but unlikely to ruin the fun on the beaches.
Tomorrow Saturday, however, is a whole different story. A wet front is forecast to for the whole of the Canary Islands.
The north of Gran Canaria is on alert for rain as we expect up to 60mm in 12 hours. While that's a lot of water it isn't expected to cause any damage as it will fall gradually.
The south of Gran Canaria won't get as much water but it should see showers.
We're not expecting sustained strong winds but there may be the odd gust. The sea will be rough and messy so please don't sunbathe on the rocks over the weekend.
Sunday will start cloudy and improve throughout the day.
Temperatures over the weekend are forecast to drop so you may even need a jumper in the evenings. Don't panic, it's in the cupboard behind the breadmaker.