In the south and the resorts, the weather will be mixed. There will be cloudy spells and the odd shower, but we do expect plenty of sunshine as well. While temperatures have dropped, it was still 20ºC at dawn this morning in Maspalomas.
Most of the effects will be in the north of Gran Canaria where the cloud backs up against the steep mountains. North Gran Canaria will get heavy cloud and showers for most of the week.
The strong wind that blew in the resorts over the weekend will continue on-and-off for at least the next couple of days. It will be strongest in the southeast so if it affects Maspalomas and Playa del Inglés, head west towards Puerto Rico and Amadores.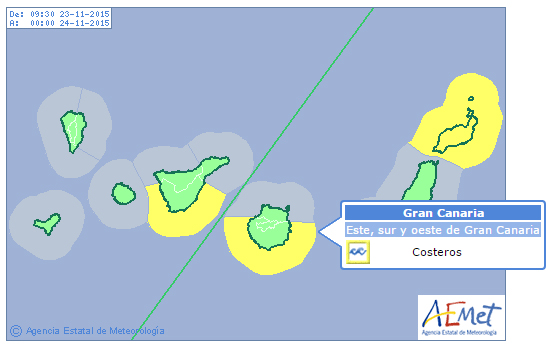 The Spanish weather service has also announced an aviso warning about big waves in south Gran Canaria for Monday, November 23rd. Please stay within marked swimming areas and don't swim off rocky shores.
The water temperature this week is 22ºC.