There are three main types of Gran Canaria airport transfer services, each with its own benefits, risks and price point. Here's our guide to them all, and a shameless plug for the in-house transfer service that helps keep the lights on at Gran Canaria Info's headquarters.

Man from pub with car
The cheapest airport transfer service is the 'man (or woman) from the pub with a car' service. This is operated by a Gran Canaria resident who picks people up in their own car from the airport. They often advertise in pubs or run pubs in resort areas, and get customers by word of mouth. They don't advertise online or in public because this type of service is 'under the radar'.
With the man with car model you are basically paying cash in hand for someone pretending to be your friend to pick you up from the airport (or drop you back). As such they will be parked in the public car park rather than in the public transport zone next to arrivals.
Legal transfer cars have blue license plates, a VTC aand SB sticker in the window, and their own parking zone at the airport. A legitimate driver does not have to pay a parking fee. Read more about the differences between legal and illegal transfers here.
This airport transfer service is often the cheapest option because the bloke with car does not have to pay for advertising and often doesn't pay business rates, taxes or professional insurance from their takings. They are cheap because they cut corners.
We don't really support this model of airport transfer service for two reasons. The first is that we don't know if a particular man with car is insured and / or a safe driver. The second is that we have no idea whether he pays anything back into the local Gran Canaria economy. We do know that informal transfers undermine the local drivers and companies who do pay their taxes and business fees.
Imagine the scandal in Puerto Rico if taxi drivers started selling tax-free beer to tourists!
The big branded airport transfer services
These are the services like Hoppa, Viva, Sun, etc.
These airport transfer services have large advertising budgets and websites that offer transfers from any airport. You book, pay upfront and when you walk through into arrivals, there is a driver with a sign waiting for you. The booking service takes a big chunk in commission and pays the rest to the company that owns the car and pays the driver.
Services like Hoppa and Viva never actually own the car or employ the driver that you meet. Nor do they have a help desk, or even employ any staff on the island. Instead they are based offshore and the savings they make mean that they caan spend huge amounts on advertising. Then they keep asking for lower prices from the drivers as they gain market share. None of the money they take in commission stays in Gran Canaria or any of the other destinations they offer.
There is very little difference between these services because they all use the same local companies to do the actual driving. A licensed local driver will reach the airport and pick up the next passenger on their list without even knowing which website they booked with. The driver is paid and the car insured by the local transport company that owns the cars, not by the booking service.
That said, all big branded services tend to be reasonably priced and are quite reliable. However, if something does go wrong there is nobody on the ground to sort it out. If a big transfer service drops the ball, then you are likely to be on your own, or at least face a long delay until someone at the call centre works out what happened.
Local Gran Canaria airport transfer services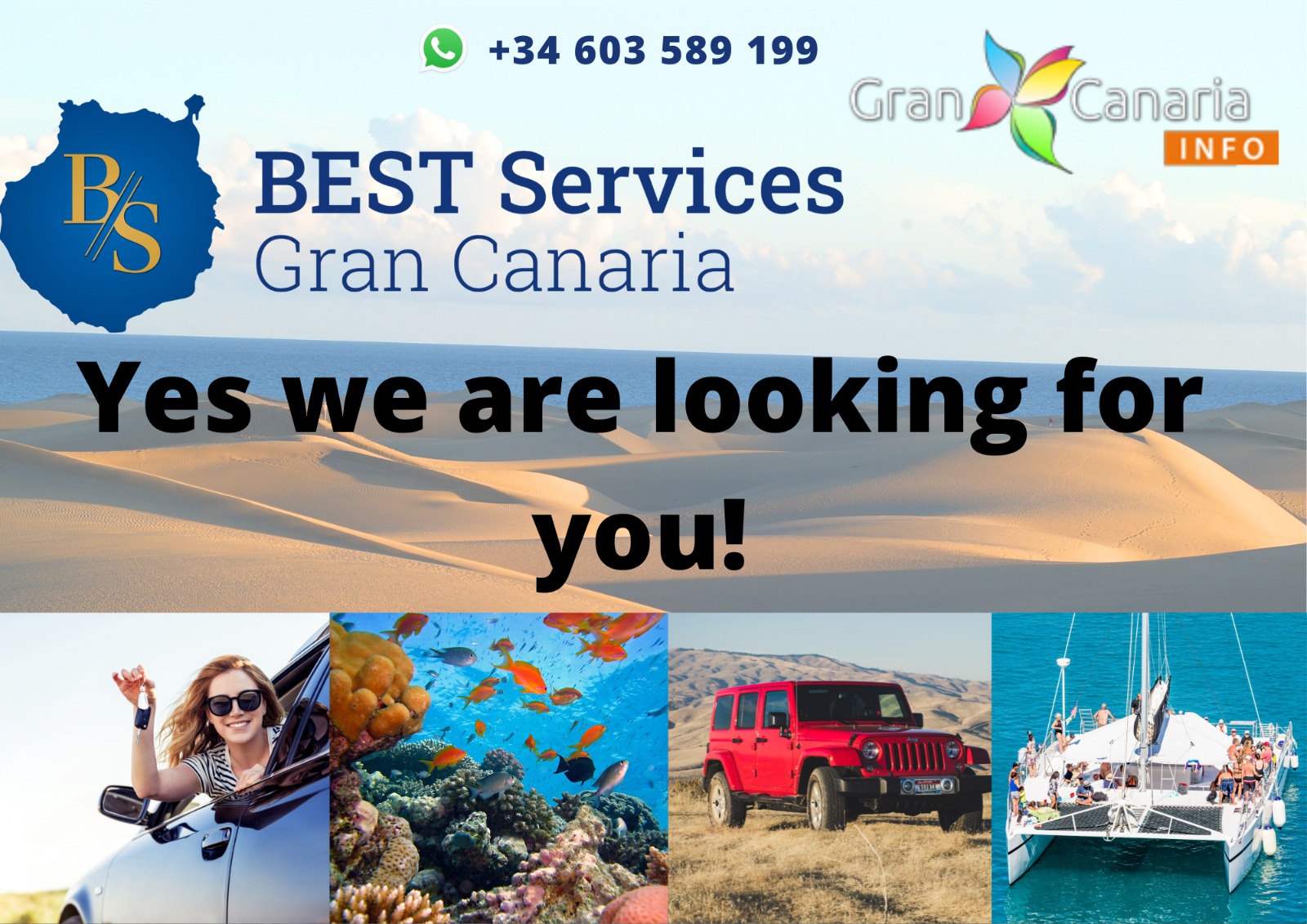 The transport companies that operate the cars and pay the drivers that do Gran Canaria airport transfers do take direct bookings. However they also work with local transfer services to handle international bookings. It is easier and just as economical for them to pay commission as it is to take bookings themselves.
This is what we do at Gran Canaria Info. We work with exactly the same drivers and cars as all the branded transfer services. However, the commission we keep is much smaller than the wedge that big services pocket. The commission we earn for handling the booking helps us to keep improving Gran Canaria Info.
Gran Canaria Info's airport transfer service is reliable, fairly priced and is all operated from Gran Canaria. This means that if something does go wrong (delays, traffic, breakdowns) we are here to sort things out as quickly as possible.
What about buses and taxis at Gran Canaria airport?
The local Gran Canaria bus network is decent and you rarely have to wait more than half an hour before hopping on a bus to the main resorts or to Las Palmas. Just follow the bus stop signs at arrivals, then check Google maps for the next bus to your destination. Then take a taxi from the bus stop or station closest to your accommodation. For one person, or a couple, using the buses saves money but once there are three of you or more, a taxi or transfer often works out cheaper.
Taxis queue right outside the arrivals lounge at Gran Canaria airport. They are reasonably priced and you can normally just walk over and get one right away. However, there can be queues at peak times and prices rise late at night, on fiesta days and on Sundays. There is a limited supply of large taxis so if your group is bigger than four (three if the Covid Levels go up), then it is better to book a large vehicle with a local Gran Canaria transfer service. A transfer is always cheaper than using two taxis, and transfers are cheaper than the standard taxi meter rate for resorts like Mogán and Puerto Rico that are further from the airport.
So, there you have it. The facts about Gran Canaria airport transfers. Obviously we'd love you to use our own reliable service, or to book an excursion or boat trip with us but the decision, like the holiday, is all yours. Thank you for visiting Gran Canaria Info and we hope to see you in our Gran Canaria Info Facebook Group soon.
If you want to book the Gran Canaria Info airport transfer service, or a transfer back to the airport, you can do it here. Our service is reliable and well-priced and using it helps us keep the lights on at GCI headquarters.