Sexy weather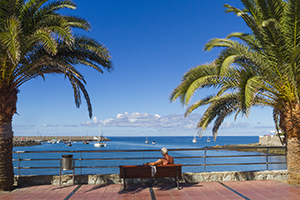 With over 320 days a year of sunshine, there's no need to cover up and feel dowdy in Gran Canaria. A few days in the sunshine and you realise that there's nothing sexier than walking around all day in flip flops and a swimming costume. And, by the way, there's no need for pyjamas and hats are making your head stylish rather than for keeping your ears warm.
Sexy Accent
The Canarian accent was voted the sexiest in Spain by Tripadvisor voters in 2011 and nothing has changed since. Its mix of Caribbean and South American pronunciation, polite grammar and laid back accent make the local dialect as sexy as the Canary Islands.
Sexy beaches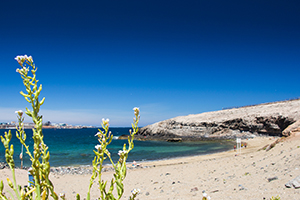 With over 80 beaches and 20 nudist beaches, Gran Canaria's sand is hot. It's not the skin that's on show that makes the island's beaches sexy, it's the cool confidence of everyone enjoying themselves on the beach that really ramps up the heat. You hit the sand in Gran Canaria, absorb the relaxed confidence of everyone around you and feel happy in your skin no matter how much of it you feel comfortable showing off; Now that's sexy.
Sexy people
Canarians are the most relaxed people in Spain and it rubs off on everyone who visits. People here are comfortable in bikinis and skimpy shorts and nobody worries about whether their toenails are the right colour or if their hair is perfect. When the locals look and feel great all the time, you can't hep but join in.
Sexy fashion
Gran Canaria fashion focuses on swimwear and underwear and its local Lenita & XTG brand leads the way in sexy beach fashion for men and women alike. Gran Canaria's annual Moda Calida event (Hot Fashion) brings designers and models to the island from all over the world to show off their latest skimpy creations.
Sexy sports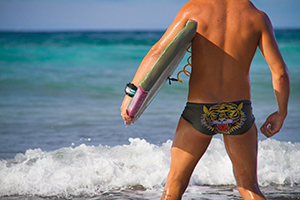 Football is big in Gran Canaria, especially now that the Las Palmas team is back in Primera Liga but, shirtless Cristiano Ronaldo aside, Gran Canaria focuses on sexier sports. From tight wetsuits to beach volleyball, there's nothing sexier than the combination of beach, bikinis, surf and salty skin. We're not sure about the local wrestling but hey, whatever floats your boat is cool in Gran Canaria.
Sexy nightlife
Local nightlife in Gran Canaria is more salsa than Sevillana and, combined with the warm nights and the late hours, make dancing the night away a sexy experience. Head to Cuban salsa bars and nightclubs for a blast of pure island sensuality; Just make sure you know the basics before you ask the locals to dance.
Sexy attitude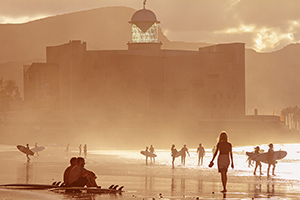 Gran Canaria is a seriously laid back place and this means that everyone feels relaxed and at home on the island. From the hot totty in the Yumbo centre to the beautiful people on the beaches, this is an island where you admire and get admired without any pressure to perform. The faces may be suntanned, but it's attitude that counts. Casual is the new sensual.
Sexy spots
Gran Canaria's tourist beaches and resorts may be crowded, but it's a big island and most of it is empty. Head to one of the island's remote beaches for a sensual nude sunbathe, or pick a spot up in the mountains and watch a sunset with just your partner for company.
Sexy fiestas
Ok, so not all the local parties in Gran Canaria are sexy unless you get turned on by chasing fish, waving branches or rolling about in the mud. Buy hey, there's an outdoor party every weekend during the summer, and carnival lasts for months and is basically just a big excuse to dress up in not much and have a lot of fun on the street. It's no surprise that the birth rate peaks nine months after it finishes.
Then there's Gay Pride, Winterpride, New Year's Eve, every Saturday night, and the boat parties. Go crazy, but be responsible.