It's really important today to eat well and eat often, we carry small packets of dried fruit which we dish out and we keep the support car stocked with fruit, basic energy bars and emergency only Coke. This is ride food only and not food for hoarding in your room for late night snacking, if you're reading this, you know who you are!
The first 11km climb includes the run out from the hotel, but looking at the profile, it's going up alright. The climb starts in earnest at the cemetery on a hill on your right after leaving the urban sprawl. Again the sun will be out and hot and you'll feel rough and over heating all the way to the carpark at the top where we wait to get everyone back together. This is where you take on some light food, it may seem like you've just left the hotel, but you have been working hard to all the way to the top, now we have a great fast descent of 200m drop before we climb again to Fataga & another 340m vertical in the bag with a cheeky 14%er just before the entrance to the village.
You can treat yourself to a coffee in Fataga and a Coke if you wish, this is generally the last stop before lunch, which is in Santa Lucia.Now we have my favorite sprint climb, a short 4,25km with 350m to the Pipeline, you can take this hard because we regroup at the top and have nothing but a long descent to look forward to!
We regroup at the top and you may be thinking now that we stop too often, but when you're here, you'll be grateful for each chance to rest before the next section, it's great interval training and gives you the ability to go an attack with a result without blowing up for the day. Anyone can ride around easy all day, it's impossible to do that here!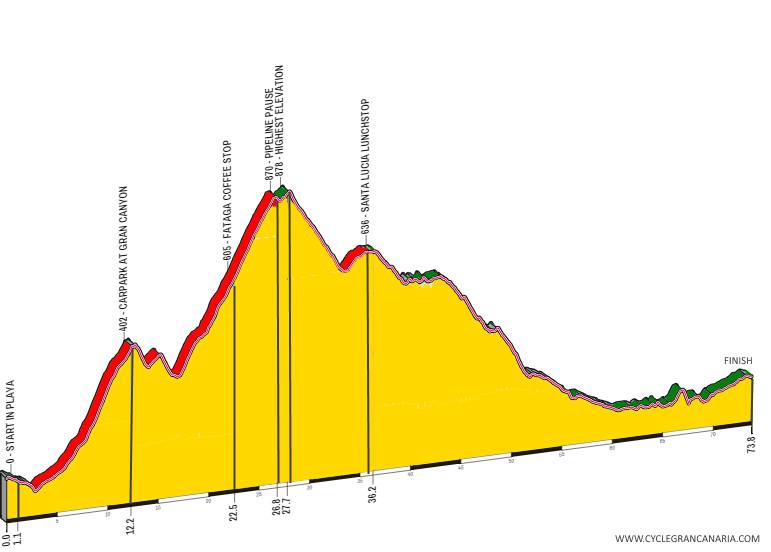 We're now heading down, stay on the road,do not go into San Bart, stay descending, and up a short stabby climb into Santa Lucia, where we'll have lunch, but we have 30km of great road to get through first. Remember don't be shy to ask for food if you feel the sugars are low. This is a long week and plenty of energy rich food keeps you feeling pucker all the time.
The gradual descent after Santa Lucia to Era de Cardon, will be one of the most memorable of your life. Minus 1 or 2% with a series of tight twisty turns, almost singletrack for a road bike, everyone is always super pumped at the end and you will be too. I've scraped my pedals on the road,and my knuckles on the armco on this section, because your goal is to stay hard right on the armco all the way down. If you drift to the left after overshooting a corner and a car comes, there'll be paperwork, I can guarantee you.
After Era de Cardon, the last descent to the Cemetery right to regroup before we go through the little tightly packed villages of Sardinia & El Doctoral to reach the coast road home, there's usually a very good tail wind here so it's open the stop cocks and give it the welly all the way to the Go Kart track about 7km away, then we have 1 small hill sprint before we come back into Playa and home, hope you enjoyed it!
Don't forget to comment or ask questions here. Google so loves that.