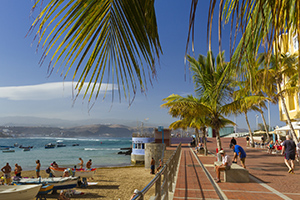 Cost: Las Palmas is one of cheapest cities in Europe to live and work in. Petrol costs less than a euro per litre, beer is under two euros a pint, a month of co-working with free coffee costs about 100 euros and a taxi ride across the city is less than 5 euros (the cheapest in Europe).
The world's best city beach: Las Canteras really is the best urban beach anywhere on Earth.
Friendly locals: Canarians are laid-back and always happy to help visitors.
Shopping: Triana historical district was recently voted the country's best open-air retail zone and you can get almost anything in the city's big shopping centres.
Surfing: The south end of Las Canteras beach, right in the city, is the place to learn to surf, the north coast is where you get good.
Food: Plenty of places in Las Palmas do a 3-course lunch menu for less than 10 euros and the city's markets are packed with cheap fruit & veg.
Alex Says: Las Palmas even hosts part of the Gran Canaria Business Week; A business-focused conference & networking event held every January.
Party town: From the three-week carnival to a thriving live music scene and nightlife that often turns into early-morning life, Las Palmas is at the heart of Gran Canaria's fun.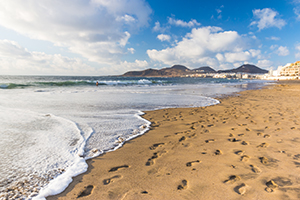 Party island: In July 70,000 people parade through Agaete town waving branches and Cubatas (the local rum & coke cocktail); In September 50,000 people run into a lagoon; Then there's the mud festival, almond festival and water festival and a dozen others. Gran Canaria is an island that knows how to party.
Co-working spaces: Las Palmas has a huge range of different spaces with fast internet, roof terrace meeting spots and helpful staff.
Support: Spaces like CoworkingC are super-helpful with everything from the best night spot to the best business angel.
Hostels: Beachfront hostels like Ventana Azul make living and working in Las Palmas a pleasure.
Four hours: Gran Canaria is just 4-5 hours from Europe and there are cheap flights from almost every big city.
The island: Gran Canaria is Europe's most underrated island and you can get to it all from the capital city.
The resorts: Feel like a holiday while you are working in Las Palmas: You're half an hour from the world's biggest tourist resort, epic beaches and a whole new world of nightlife.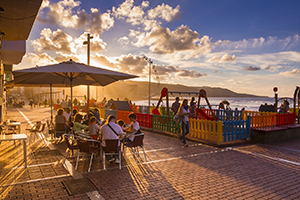 Safety: Las Palmas is Europe so it's a safe city with little crime and a long tradition of catering to foreigners.
Tapas: From the huge tapas night at Vegueta to the mercado del Puerto via the tasty treats on every bar counter, you're only ever a short walk away from something delicious in Las Palmas.
The Weather: Las Palmas has the world's most pleasant climate and the temperature never drops below 15ºC (and that's in the middle of the night). It's not sunny every day, but then that's a good thing if you're here to work, right?
All ages: Las Palmas has nightclubs that pump out Latino tunes until dawn but also has plenty of places for a relaxed drink by the sea. It's a city that caters to all age groups.
Internet: Las Palmas is fully wired up with fibre so most accommodation has fast internet and lots of cafes and bars offer free wifi. The city's co-working spaces have lightning-fast internet.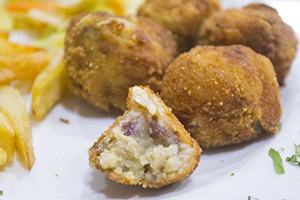 Start-up stuff: The Las Palmas startup scene has gone all professional and you'll find a great network that can help you with almost any project.
Island hopping: If you base yourself in Las Palmas, then you can hop to any of the other Canary Islands by ferry or plane. The Association of Canary Islands Co-working Spaces has 25 members and soon, you'll be able to work at any of them thanks to a passport system.
No Visa nonsense: There's no need to do Visa runs in Las Palmas as almost all nationalities can stay for three months as tourists, then just apply for residency.
Healthcare: This is Europe baby, and all EU citizens are entitled to free healthcare for the first three months provided that they bring their European Health Card. For everyone else, there are plenty of quality clinics.
Alex Says: For more info on Las Palmas' co-working scene, and lots of the best places to work and stay, see this article.