Where else can you pop out for a week's holiday in December and be virtually guaranteed beach weather?
Here's our guide to the top property areas in south Gran Canaria.
Pretty, Pretty Puerto de Mogán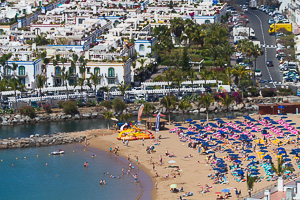 With its whitewashed marina, masses of flowers and sheltered beach, Mogán is among the most desirable areas in Gran Canaria and property is in short supply; a two-bedroom beachfront apartment with terrace costs upwards of €500,000.
Prices are high because there just isn't much property available in Mogán and because lots of it is rented out. The good news is that bargains do come up and you can find one-bed apartments in Puerto de Mogán for less than €100,000.
Another excellent option is to look up in the Mogán Valley close to Pueblo Mogán. Here you get a more rural experience and are still only a few minutes from the port and beach.
The famous houses and lanes around the marina are also a rare example of leasehold properties in Gran Canaria as they are on port authority land.
Bustling, Sunny Puerto Rico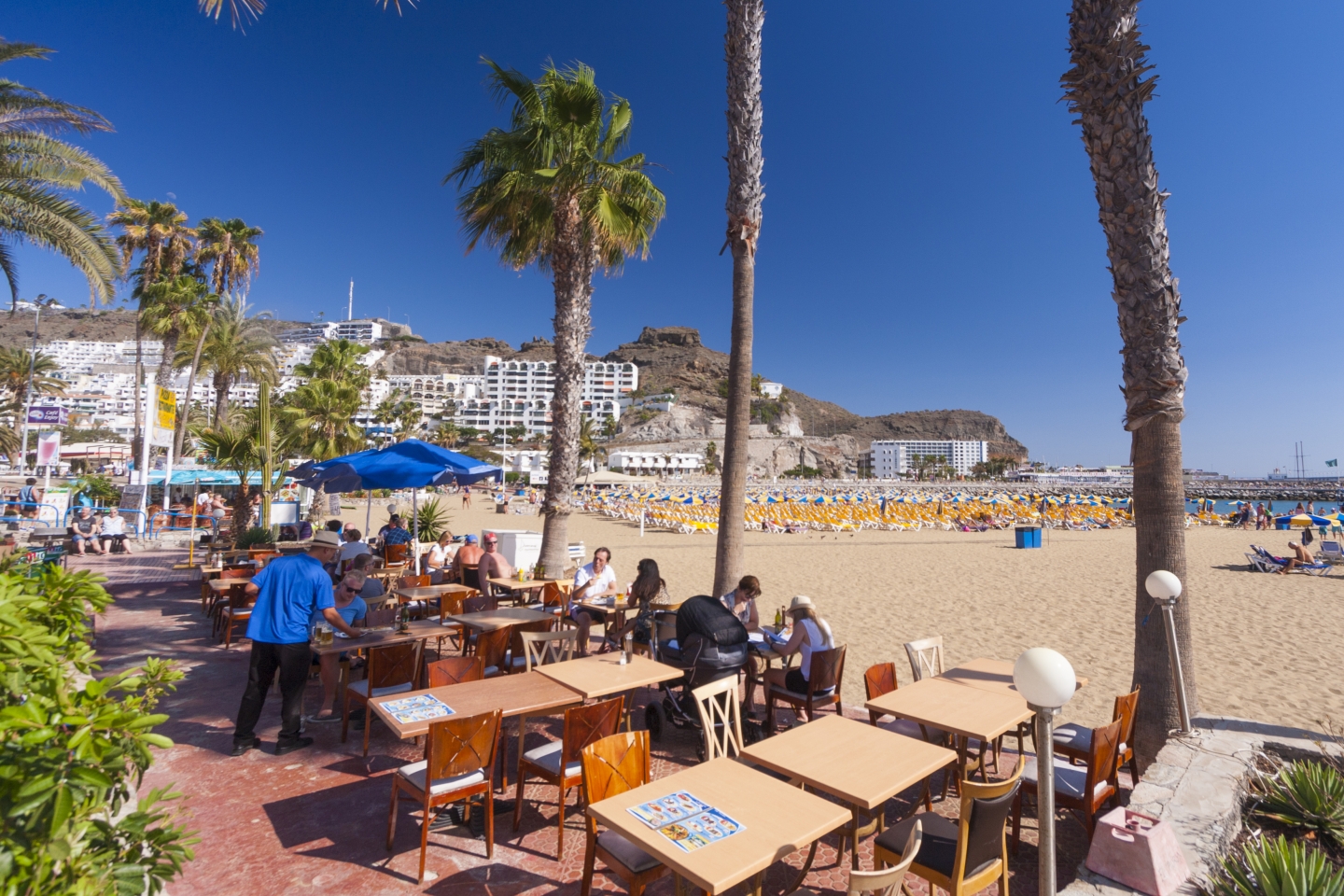 Big and bold, Puerto Rico is the place for an apartment with a sea view and plenty to do. It's Gran Canaria's most resorty resort and its sheltered beaches and vast number of activities make it a great family destination.
While it's a big resort, most properties are quiet and within walking distance of the beach. There's a lot or property in the resort and prices are excellent at the moment. Look on the East Hill for sunset views and the West Hill for morning sunshine.
Prices drop slightly as you get back from the beach and up the hills. The properties right by the shopping centre can be noisy at night.
Up High at Amadores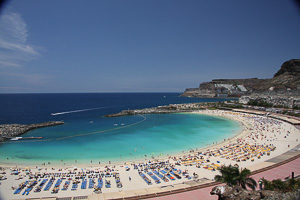 Amadores is where Puerto Rico spilled over the top of the West Hill and down towards beautiful Amadores beach. It's high up and away from the sea but the views are spectacular and regular buses run down to Puerto Rico Resort. If your idea of heaven is a property with a view and a pool, then Amadores is an excellent choice.
The area has its own shopping centre and plenty of restaurants.
There are also properties right by the famous beach, but they don't come up for sale often.
Peace and Convenience at Agua La Perra/Little Puerto Rico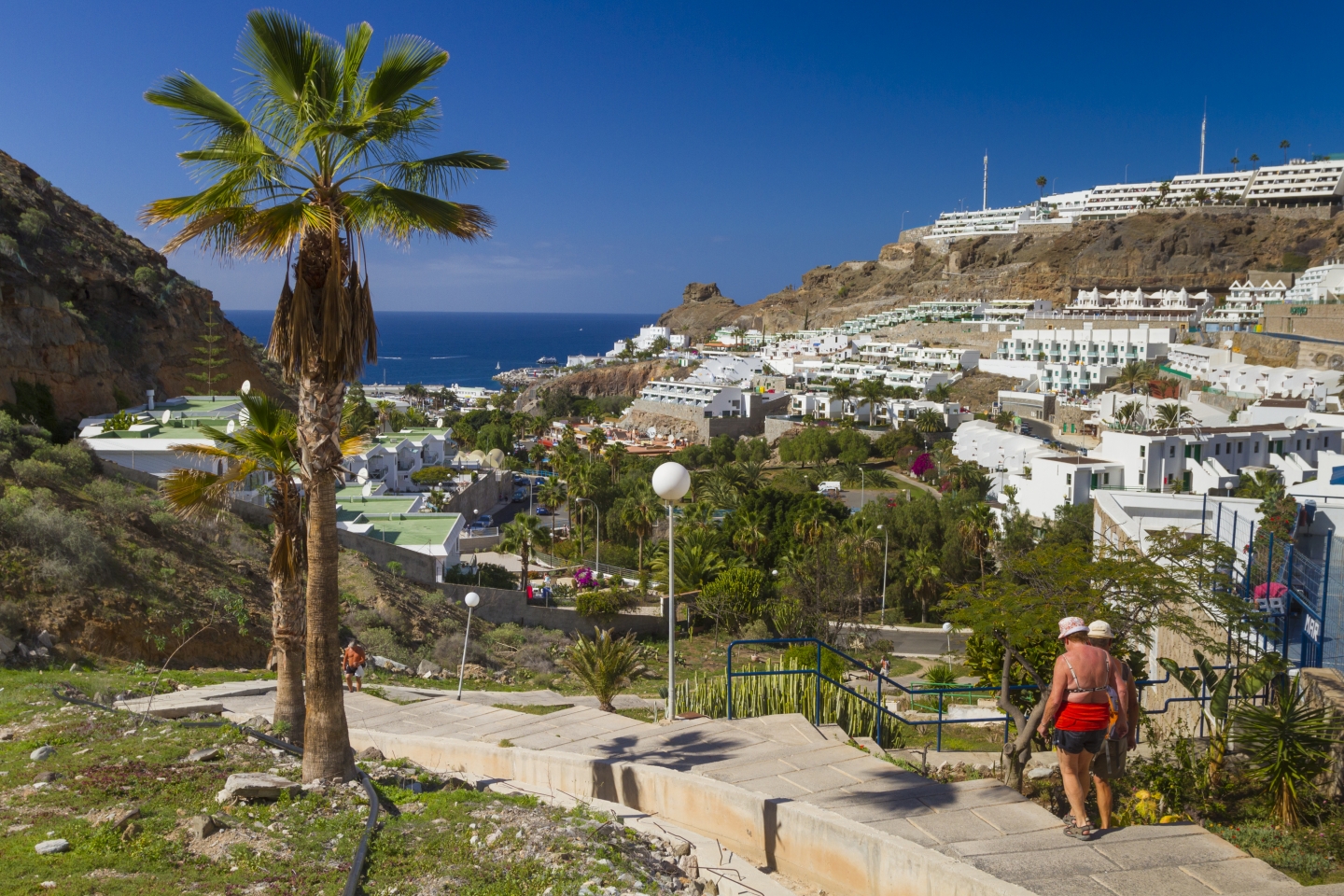 If Puerto Rico is a bit busy for your taste, but you still want to be close to the beach and the restaurants, then look at Agua La Perra barranco just east of the main resort. It's like a little version of Puerto Rico but with a much quieter atmosphere. There's plenty of palm trees and grass, a small mall with shops, and some of the area's best restaurants. The marina and beach are just a few minutes walk.
Almost all property in Agua la Perra is apartments on small complexes with swimming pools. Most have views of the marina. Prices in Agua la Perra are excellent value and it's as sunny as it gets.
Sunshine and Views at Patalavaca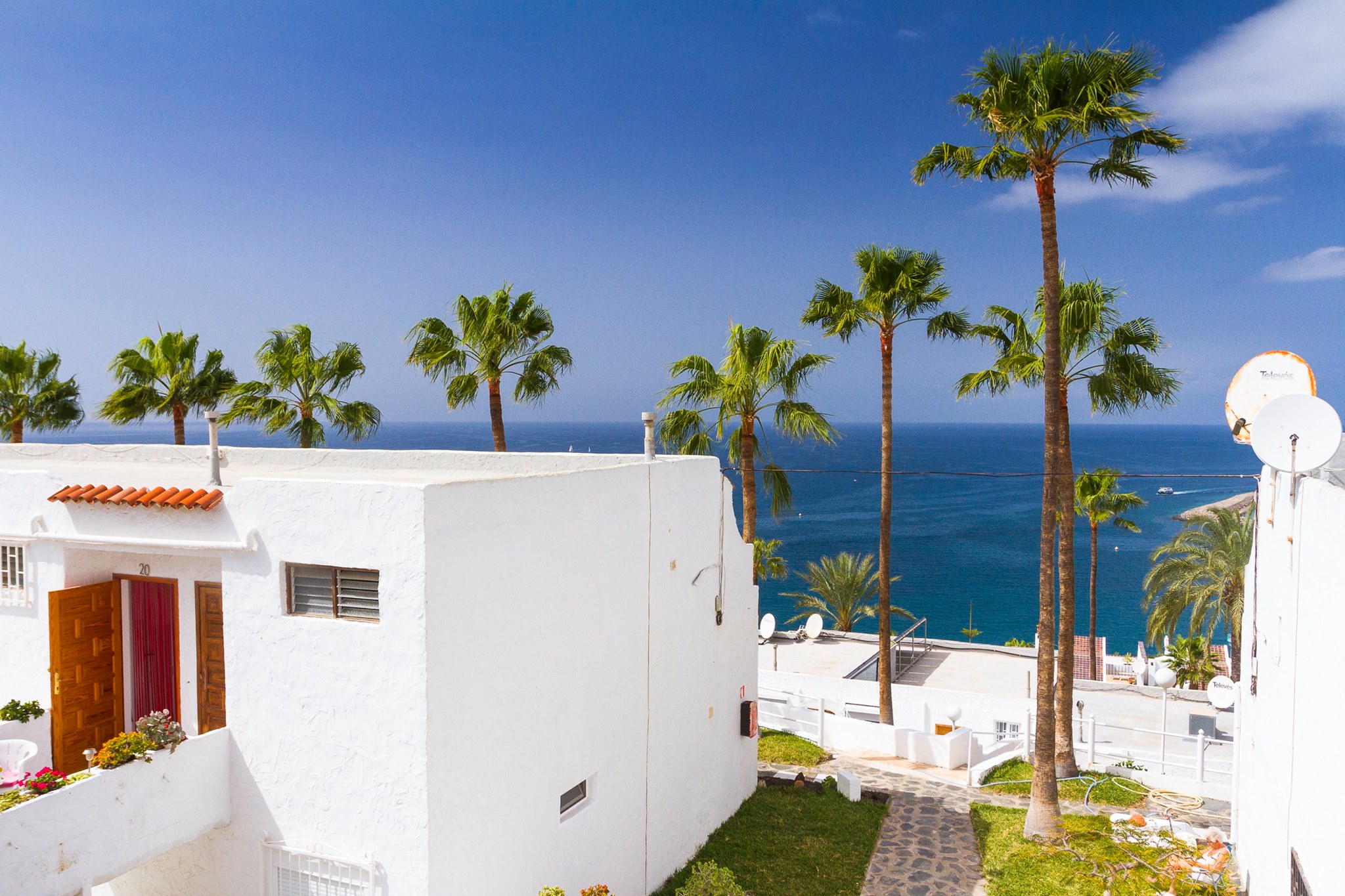 Between Arguineguín and Anfi beach, this narrow strip of hotels and apartments is popular with foreign buyers thanks to its excellent weather and sea views. There's not much for sale in the area. Upmarket Pasito Blanco Gran Canaria's most private and exclusive marina, Pasito Blanco is a fantastic spot to own property in Gran Canaria but prices are sky high. This is where the sailing set hang out on their terraces with view of their yachts and smart cars. Pasito Blanco is peaceful, private and with a new restaurant on the harbour wall and a ferry link to the south's other marinas it is the perfect place to buy a little bit of sunny paradise in Gran Canaria.
Modern Meloneras
The newest and most upmarket resort on the island, Meloneras is the cluster of villas, apartments and bungalows sandwiched between the golf course and the Maspalomas lighthouse. Property here tends to be more expensive than in Maspalomas as it is newer and closer to the sea.
Golfing Paradise at El Salobre
Tucked away just inland of the main resorts, El Salobre has two 18-hole golf courses, smart hotels and a cluster of the islands best villas and holiday cottages. For a modern villa with private pool and views of the greens, it's the place to look. Golfers and rental investors have snapped up El Salobre's villas but bargains still come up and for villa rental income is excellent.
Insider's Secret at Tauro
A great alternative to the bustle of Puerto Rico resort and close to Puerto de Mogán, Tauro is where lots of workers and foreign residents choose to live in the south of Gran Canaria. The valley has a beach and all amenities, and excellent transport links to the rest of the south. It's also about to undergo a major modernisation with a marina, sandy beach and park areas.
Work on Tauro beach has now begun (March 2016)
Bungalow Heaven at Maspalomas
Sunny, close to the beach, golf course and Meloneras Boulevard; Maspalomas' Campo Internacional is the place to buy a bungalow or villa if you want privacy but still like being central. There are excellent bungalow complexes and private villas down the many lanes and cul de sacs.
Tourist Central With Hidden Corners at Playa del Inglés
Famous for nightlife and it's enormous beach, there is more to Playa del Inglés than shopping centres. While the areas close to the main nightlife spots are busy almost 24-hours a day, you can find splendid little complexes in the resort that are peaceful but still within walking distance of the beach and restaurants.
Peaceful San Agustin
Lovely beaches, a seafront promenade and none of the crowds of the main resorts, San Agustín is rightly a popular choice for property buyers in south Gran Canaria. The resorts is narrow so you are rarely out of walking distance from the beach.
Des Res at Bahia Feliz
A narrow strip of seafront bungalows and apartments north of San Agustín that rarely come up for sale. A peaceful, if sometimes windy, area with plenty of privacy and spectacular views out over the ocean.
Rural Charm: The Inland villages
If you want to be close to the beaches but experience a more rural way of life, look at the local villages in the valleys behind the resorts. Fataga is the prettiest and most popular but Pueblo Mogan is a good option and Cercado de Espino is quiet even by rural standards. Further inland, Santa Lucia and San Bartolome are completely Canarian and have stunning views of the centre of the island.
Check the latest and best properties on-sale in Gran Canaria on the Cardenas Real Estate website. We recommend Cárdenas to anyone looking for property in south Gran Canaria because we know that they really look after their clients.
See their blog for lots more tips about buying and selling property in Gran Canaria.