We're getting this a lot at the moment because of the situation in Tunisia and Sharm: Lots of Gran Canaria newbies are worried that Gran Canaria is over-developed and that there's nothing to do outside the resorts. Luckily, it's an easy job to show that the island has far more to offer than the lunchtime buffet.
So Gran Canaria isn't just a big resort?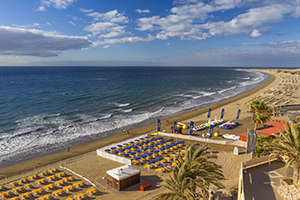 Read online reviews and you could easily get the impression that there's nothing in Gran Canaria except an airport, a giant resort and a motorway between them.
We write those reviews to make sure that the rest of Gran Canaria stays the way it is: Beautiful, relaxed and unspoiled.
Only joking about writing the reviews; They are written by people who actually never leave the resorts and, therefore, have no right to whinge.
We've yet to meet a visitor who spent a day driving or busing around Gran Canaria and didn't come back impressed.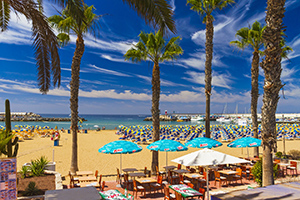 Gran Canaria's biggest resort is the twin conurbation of Maspalomas and Playa del Inglés. While it may be vast, it has a beach to match; Six kilometres of sand and hundreds of golden sand dunes. The beach is so big that there's always space and it never feels full.
Even Puerto Rico, Gran Canaria's most resorty resort, has two great beaches and is a few minutes on the bus from several more.
If you prefer your beaches small and quiet, then don't worry. Even in south Gran Canaria, there are plenty of empty little beaches just minutes from the resorts.
For a guide to all of Gran Canaria's main resorts, see this article.
99% of Gran Canaria isn't a resort at all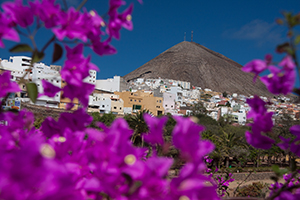 Gran Canaria has an enormous tourist industry and between three and four million people visit the island every year. However, almost all of them stay on the beaches and in the narrow strip or resorts along the south coast. Most have a great time and go home with a suntan and a slight hangover. Eighty percent of them come back and do it again.
That's because Gran Canaria's resorts are a whole load of fun if what you want is a safe, easy and relaxing holiday in the sunshine.
However, Gran Canaria's tourist resorts don't even cover 1% of the island. The rest, from the capital city Las Palmas to it's rugged highlands, is largely untouched by tourism.
In fact, Gran Canaria is an excellent place to get off the beaten track because so many of its visitors choose to stay close to the buffet.
Outside the resort gates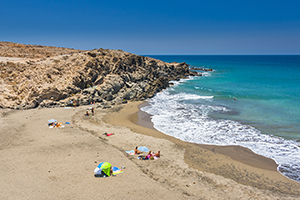 Gran Canaria outside the gates of the resorts is an island where banana and mango plantations are far more important to the economy than souvenir stalls.
Our advice to anyone looking for more that sun, sand and sangria is to rent a car in Gran Canaria. Book it in advance and pick it up in the airport or rent once you are in the resorts.
Use a local operator such as Cicar or Orlando for the best deals, or one of the many small companies. As with any rental, check the car and the conditions carefully. A small car costs less that 40 euros per day and can be as cheap as 25 euros per day. Petrol is currently well under a euro per litre.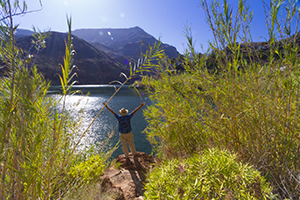 From the resorts, there are spectacular roads running up the steep valleys to the centre of Gran Canaria; Fataga, Arguineguín and Mogán are the three most spectacular drives.
Once you get up into the Cumbres the island is almost completely undeveloped. The pine forests are spectacular and there are tons of hiking routes and small villages full of local restaurants. For a truly spectacular route, drive the west coast road between Mogan and Agaete via La Aldea. The winding road from La Aldea up to the centre is also fantastic, and as far from the resorts as you can get.
Things you have to see and do
Browse through our Top Ten Gran Canaria section and you'll get a good idea of everything the island has to offer.
Or have a look at our guide to every Gran Canaria beach.
Any questions, just join our Facebook group and ask away.