Walk into any bar in the Canary Islands and you find that half the customers have just popped in for coffee. It's the Canarian equivalent of the British cup of tea; an essential social ritual to be indulged in regularly. You can't really understand local life on the island until you understand how the coffee works.
By coffee, we mean pure bean juice steam-extracted in a fierce looking machine with shiny spouts and levers. There is no room in Gran Canaria for infantile instant coffee or slow-filtered bitter beverages. Coffee comes in white coffee cups or little glasses and never in enormous beakers with plastic teats and clever little sleeves to stop you burning your delicate fingers. Some bars are currently experimenting with mugs, but this is a ghastly hipsterish fad (like serving mojitos in jam jars) and is doomed to fail.
Coffee in Gran Canaria is never drunk on the go unless you mean on the 'go and sit down'.
In short, coffee in Gran Canaria comes 'como dios manda' (as god intended).
Coffee culture. Pfff
So far, the locals have steadfastly resisted the European trend for weak American style coffee served in buckets; the only Starbucks on the islands is in the airport and nobody local goes near it.
There is no such thing as a coffee artiste in Gran Canaria because coffee is about flavour rather than flourish. Any barista-style decorative foam art and bizarre flavourings are a sign that you are in a tourist-trap and about to be relieved of all your money. Run away!
Gran Canaria coffee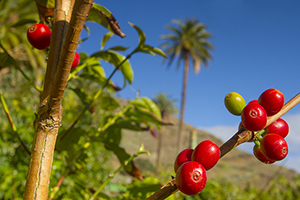 Nobody in Gran Canaria drinks coffee made from the island's coffee plantations in Agaete. It's too expensive; the most you pay for a cup of coffee in Gran Canaria is €1.50 while the local stuff starts at €3 per cup.
This doesn't mean that it isn't good: Head to the Huerto de las Flores secret garden in Agaete town centre and try it at the café under the mango tree.
Ordering
Ordering a coffee in a busy Canarian bar is an essential introduction to the subtleties of Canarian culture. We encourage every visitor to go out of their way to try it.
You get three seconds to order before the stressed-out waiter (almost always male) starts to pull 'look at the silly tourist' faces. Take more than ten seconds to order and he'll just wander off.
You never get a coffee menu in the Canary Islands, because everybody already knows the options. Here they are.
The Cortado
The short. Ubiquitous, and more correctly know as the 'cortadito' (the short short). Ordering a cortadito instead of a cortado is a sure fire way of endearing you to your waiter.
The drink itself consists of a shot of espresso with a dash of hot milk.It comes in a small coffee cup or glass with a saucer. If you smile and are lucky you get a biscuit but this is not traditional. You also get a teaspoon and more sugar sachets than you can carry.
The cortado is strong by Anglo-Saxon standards and is drunk fast before it cools down.
Alex says: Want water with your cafecito? Ask for 'agua' and your waiter will ask 'con gas o sin gas?', followed by 'fria o natural?'. Answer accordingly if you want sparkling or still water, cold or at room temperature.
The Cortado Largo
A cortado served with extra milk. The exact proportions are undefined and vary wildly. Some cortado largos are indistinguishable from a standard cortado while others are of epic proportions. The cortado largo is served in a tall glass to differentiate it from the café con leche. The use of the phrase 'un cortadito largo' is oxymoronic and will not endear you to your waiter.
The Café Solo
Order a 'café' in a Canarian bar and you get you a café solo. A pure whack of bean juice served with plenty of reassuring sugar on the side. The solo is strong and likely to disagree with foreign palates and stomachs. Asking for milk gets you funny looks. If you wanted milk in your coffee you should have ordered a cortado, cortado largo or a cafe con leche. Keep up!
The Café con Leche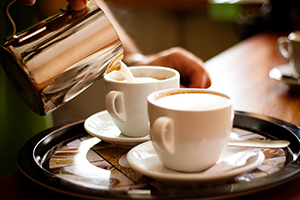 A breakfast and mid-morning staple also served as a mid-afternoon constitutional. The café con leche is served in a white cup and saucer with the obligatory excess of sugar. Often frothy and rarely made with anything other than full-fat milk (ask for "café con leche con leche desnatada" for your skinny option but be prepared for disappointment and funny looks).
At breakfast, the café con leche is used as a dunk for the rest of breakfast, be it magdalenas (fairy cakes with no icing), tostadas (toast), churros (deep-fried dough sticks), croissants, etc. The dunking of the sandwich mixto (a grilled ham and cheese sandwich) is eccentric but not unheard of.
A further variant of the cafe con leche is the 'con gofio' option. Here, a heaped tablespoon of toasted maize flour turns your café con leche into a thick, porridgey concoction. This is rare in bars but a home breakfast option. Seek it out in village establishments but be prepared to be laughed at as the texture takes some getting used to.
The Cappuccino
This is as fancy as coffee gets in Gran Canaria. The non-traditional cappuccino indicates that you are in a tourist area, or at least in a bar with pretensions.
Be prepared for a disappointing experience. The non-resort Gran Canaria cappuccino is just a café con leche with chocolate powder (never cacao) on top. Within resorts, this beverage is a creative outlet for frustrated barristas and can anything up to a foot tall and 10 times the prices of a normal coffee.
The Leche Manchada
Literally 'stained milk' and the namby-pamby version of a café con leche. This is served to people who think they drink too much coffee, but don't want to stop.
The Leche y Leche
A cortado or cortado largo served in a tall glass with a hefty finger of condensed milk at the bottom. You stir it up, then drink it up; it's like rocket fuel but is definitely not suitable for diabetics. The leche y leche always comes with sachets of sugar, but nobody ever uses them.
The Descafeinado
The exception to the no instant granules rule, a descafeinado comes, unless you specify otherwise, as a cup of hot milk with a sachet on the side.
Con Hielo
The underground star of the Gran Canaria coffee world, this is iced coffee without the slush.
The café con hielo is served as a café solo with a glass of ice cubes on the side. You dissolve a sachet of sugar in the solo, pour over the ice cubes, swizzle and sip.
It's a fantastic summer drink but feel free to order at any time provided the sun is shining.
Alex says: Don't be shy about asking for more ice if the bar is mean. There needs to be enough to cool the espresso down instantly.
Para Llevar
Coffee is available 'para llevar' in most Canarian cafés and bars. It comes in a polystyrene cup with a lid but no spout or sleeve; because it's meant to be taken somewhere and drunk, rather than drunk on the way to somewhere.
Irish Coffee, English Coffee, French Coffee, Mexican Coffee
You're in tourist land. The only alcohol allowed in genuine Gran Canaria coffee is a shot of aguardiente, rum or brandy. It's called a carajillo and is only served to old men with big bellies and husky voices worthy of a Sicilian godfather. The carajillo is a morning option (why would you put booze in your coffee after midday when you can just drink rum instead).
If you find an extensive alcoholic coffee menu in Gran Canaria, then expect enormous goblets, cream, unbranded spirits, sparklers and, of course, a huge bill.
Café áleman
Another non-traditional option, found in resorts and areas of the island popular with Germans and Scandinavians. Café alemán is filter coffee and its presence on menus is universally taken as a sign of cultural decline.
Infusiones
A range of teas, always seved in individual tea bags along with a large cup of piping-hot water. You'll always get té (brown tea), manzanilla (chamomile) and menta poleo (spearmint), although té verde (green tea) is spreading and a range of fruity numbers are making inroads.
If you want milk you have to ask for it.
Infusiones are drunk mainly by Canarians who have recently been scared by their doctor and assume that a spearmint tea will mitigate the damage caused by a three-course lunch accompanied by wine.
A Note on Tipping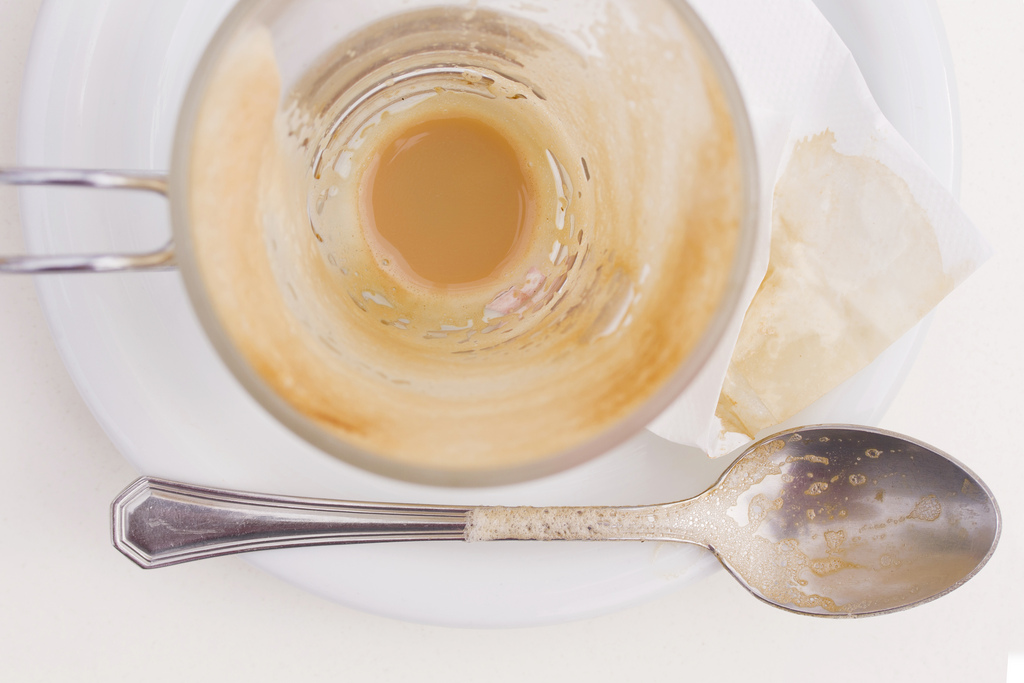 Tipping in the Canary Islands is, like most things, a relaxed and informal affair. After a large meal, ten percent is generous but American style 15-20% tip bombs are de trop. Although waiters are used the vagaries of the tourist and are unlikely to do anything other than raise an eyebrow, leaving nothing is considered mean. After a coffee, a gesture is often enough; leave a couple of coins to decorate the saucer and stop the receipt from blowing away.