Bosmedianos (Los Ñoños)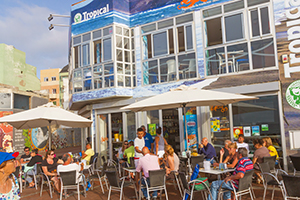 This beachfront restaurant at the southern La Cicer end of the beach specialises in seafood and especially the local classics like puntitas de calamar (deep fried baby squid), morena frita (fried moray eel) and calamares (squid rings). Open since 1980, it's become an institution thanks to its big portions and great value. Los Ñoños also does a range of takeaway bocadillos perfect for the beach (although you can't have mayonnaise sauce on your takeaway calamares sandwich thanks to silly EU food-safety laws).
A great spot to sit in the sunshine with a cold beer and a plate of yum and watch the surfers. Order the morena frita if you dare.
Alex says: Los Ñoños' calamares fritos are of the thin tender sort rather than the fat, tasty sort.
On the beachfront at Carretera del Rincón.
De Enyesque
A smart tapas restaurant right by the beachfront, De Enyesque does the classics with a twist and pulls it off. Try the fritada de verduras (Tempura vegetables), rulo de cabra (goat cheese) and the chocolate mousse.
Calle Churruca 1, visible from the beachfront.
Bar La Peña
A small, unassuming restaurant just to the south of Olof Palme street (look out for the kneeling fisherman) that does the classics well. You have to go here just to try their 'chipirones con mojo verde' dish; flash-grilled little squid with a herby garlic and parsley sauce. It's the best on the beachfront, if not the island.
On the beachfront at Paseo de las Canteras 71; just south of the kneeling fisherman statue.
Bar Vigo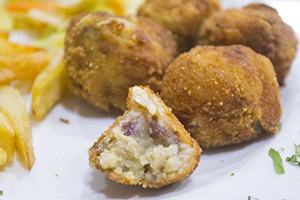 On the opposite side of Olof Palme street to La Peña II, Bar Vigo has been a local institution for years and has now opened its own beachfront terrace. For authenticity, we'd recommend heading 50 yards up Olof Palme street and going to the original bar.
Bar Vigo does a good range of Canarian and Spanish classics but make sure that you order the croquetas de aguacate; Delicious avocado and Spanish ham croquettes. Also, try the pulpo a la Gallega (octopus with sea salt and paprika) and the caracoles (stewed snails).
At Calle Olof Palme on the beachfront. The original bar is a few metres back.
La Bikina
A new spot that has stepped away from the seafood and Spanish tapas model and done well. La Bikina does a Mexican egg breakfast at the weekends and their burger is excellent. Overall the food is good and the atmosphere welcoming. We even forgive them their hipsterish habit of serving things in jam jars.
On the beachfront, Paseo de las Canteras 63.
Bodegón Pachichi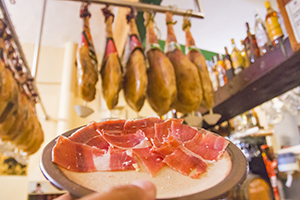 A barn of a tapas restaurant (actually an old lorry garage) just back from the northern end of Calle Portugal at Los Martínez de Escobar 51, Pachichis is a sociable kind of place where you share tables, sit on tree stumps instead of chairs, and have to chat your way to the bar. It's popular with students, and their parents, thanks to the great prices and happy buzz.
Order the flaming chorizo dish, the flaming squid or a plate of jamón serrano, and wash it down with the best value beer and wine in town.
At Los Martinez de Escobar 51 just back from the beachfront.
Mesón El Campechano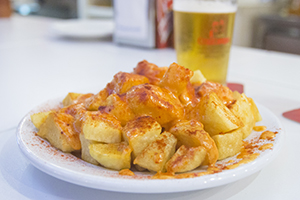 An authentic Andaluz tapas restaurant complete with the green and white tiles, bull's heads on the walls and Friday night music and dancing. Choose between tapas at the bar or barrel tables, or a sit-down feast in the back room.
Try a jug of rebujito (sherry and lemonade) and follow up with the splendid papas bravas and salmorejo.
At Olof Palme 30, a couple of blocks back front the beachfront.
Tasca Galileo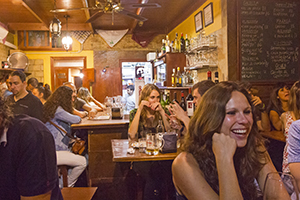 On of the original experimental tapas places in Las Palmas and still one of the most popular, Tasca Galileo does it all right. The tables are barrels, the menu is on a board and most of its dishes are excellent. Galileo has a great wine selection and friendly service.
Arrive early to get a table or be prepared to wait outside.
Order the prawn-stuffed mushrooms and the pork with orange sauce.
At Calle Galileo 13 a few blocks back from the beach.
Bodega Extremeña Alcuéscar
A tiny little place on Franchy Roca street just back from Las Canteras beach, this restaurant has somewhat erratic opening times but is always worth diving into if you find it open. Try the slow-cooked ham hock (codillo de cerdo) on a bed of onion and potatoes, the tortilla de Ibéricos and the tuna salad (but don't expect to get them all on the same day).
At Calle José Franchy Roca 35 just off the beachfront.
El Rincón Aragones
Despite the name, this great spot on the beachfront does lovely Canarian food like ropa vieja, a good paella, and some of the best mojitos in the city. It only has a few outside tables, so if you see an empty one, take advantage immediately.
On the beachfront at Calle Sagasta 66.
El Carrillo de Rita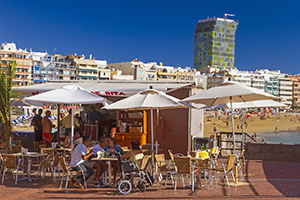 The one and only chiringuito beach bar on Las Canteras beach, El Carrillo de Rita does more than just serve cold drinks and tapas. Its avocado, onion and tomato salad with cumin salt is superb, and it does a mean plate of calamares.
Great food, superb views and palm tree shade make this an essential stop on any Las Canteras beach walk.
Find it right where the sand ends at the northern tip of Las Canteras beach.
Amigo Camilo
For the freshest seafood close to Las Canteras, head north from the La Puntilla end of the sand, walk across the square and you'll find Amigo Camilo perched on the rocks in front of you. It does great calamares, prawns and fresh fish and has excellent views of the rocky coast stretching north to El Confital beach.
This is the place to go up to the fish counter, choose a selection and enjoy them befoe you get the bill (Amigo Camilo is great value, but fresh fish isn't cheap).
At Calle Caleta 1.