Dolphin watching in Gran Canaria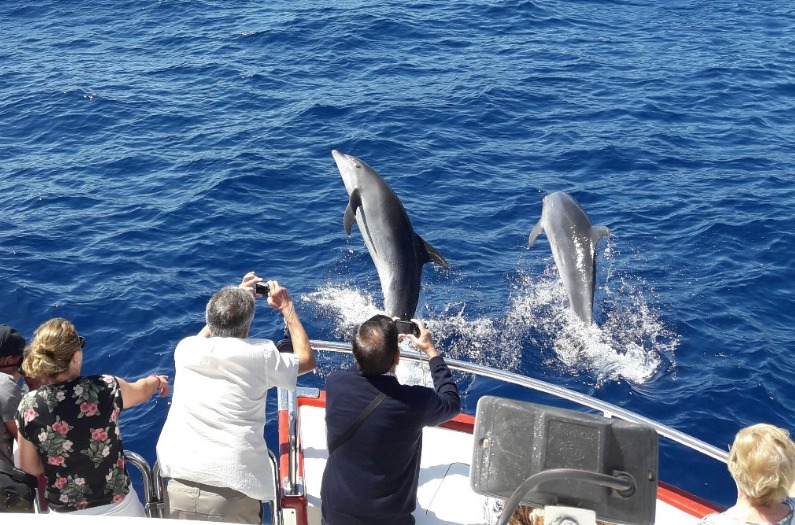 Gran Canaria is an exceptional place to go on a dolphin and whale watching boat as 27 of the world's 80 species of cetaceans have been recorded around the Canary Islands.
Common species include resident bottlenose dolphins (like Flipper) and short-finned pilot whales. Other species that visit Gran Canaria ever year are Risso's dolphins, common dolphins, spotted dolphins, spinner dophins, minke whales and the mysterious beaked whales.
With a 98% success rate and a large, stable boat, the Multiaquatic is an exceptional way to head out into the Atlantic to meet its most beautiful inhabitants.
Unlike other Gran Canaria boats, the Multiaquatic also includes a swimming stop on some of its trips; an excellent bonues on a hot Gran Canaria day. On Fridays you can even combine dolphin watching with a visit to the Puerto de Mogán market.
Now you know why it's called the Multiaquatic boat!
Alex Says: All dolphin and whale watching boats have to follow a strict Blue Boat code of conduct that guarantees the peace and safety of the animals. Please make sure the boat you choose abides by these rules before booking your dolphin watching trip.
Two hour dolphin watching trip from Puerto Rico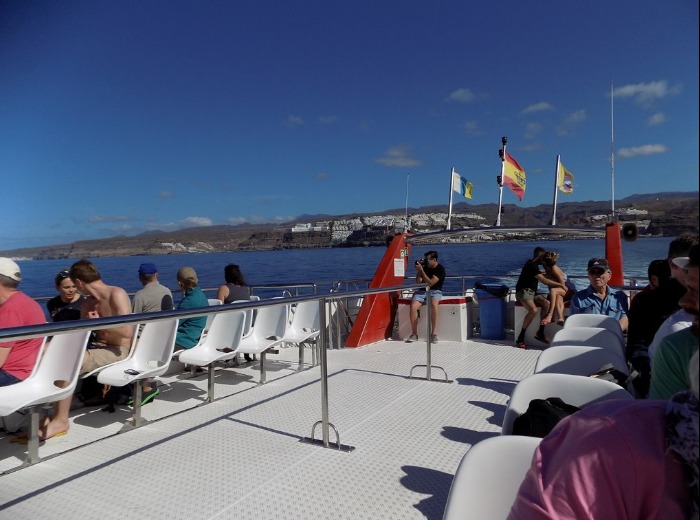 This 2 hour dolphin and whale watching safari starts from Puerto Rico and boasts an amazing 98% success rate at finding wild and free whales and dolphins in the waters of south Gran Canaria.
The trip takes place on a modern glass-bottomed catamaran, built in 2005, with a lower and upper deck. The boat has specialised sound equipment for listening to the whales and dolphins and the important "Blue Boat badge", aboats get when they agree to follow the marine code.
Your Dolphin & Whale search experience includes a complimentary drink onboard and return transport from centralised collection points in the south of Gran Canaria.
The two-hour dolphin safari leaves on Mondays, Wednesdays and Saturdays at 10.30am during the winter season starting in September.
Three hour dolphin watching plus swim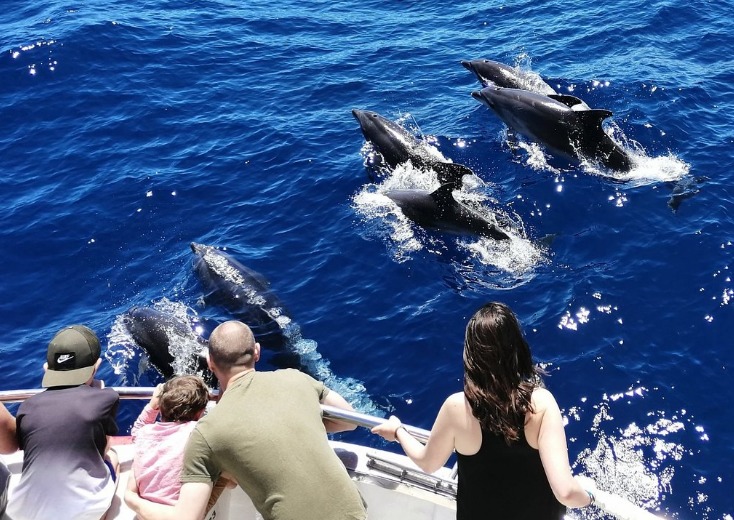 This trip combines a two-hour dolphin-watching trip with a swimming stop close to the shore.
You get a complimentary drink onboard and return transport from centralised collection points in the south of Gran Canaria.
Dolphin watching plus a stop at Puerto de Mogán market
The famous Puerto de Mogan street market is every Friday and the best way to get there is by boat. This tour gives you the full two-hour dolphin watching experience plus a stop at Puerto de Mogán with plenty of time to explore the market and the pretty marina and its lanes.
The dolphin safari plus swimming spot leaves Puerto Rico marina at 10.30 on Tuesdays and Thursdays (winter season).
Book your dolphin watching trip here
Dolphin watching trips are a popular Gran Canaria excursion and places are limited by the size of the boat. Book your trip with Gran Canaria Info in advance and you'll have your spots reserved any day you want.
The dolphin safari plus Puerto de Mogán market stop starts at 10.00 every Friday.