The sea in south Gran Canaria is almost always calm so it's a perfect place to get out on the ocean. You'll experience the island from a fresh perspective, get a tan and probably see dolphins and turtles.
If you really want to spend a day on the water, let our team of Gran Canaria experts know via this WhatsApp form and they'll be in touch to guide you through the options. It's a super-easy way to make sure you choose the right boat trip for you.
Dolphin Watching in south Gran Canaria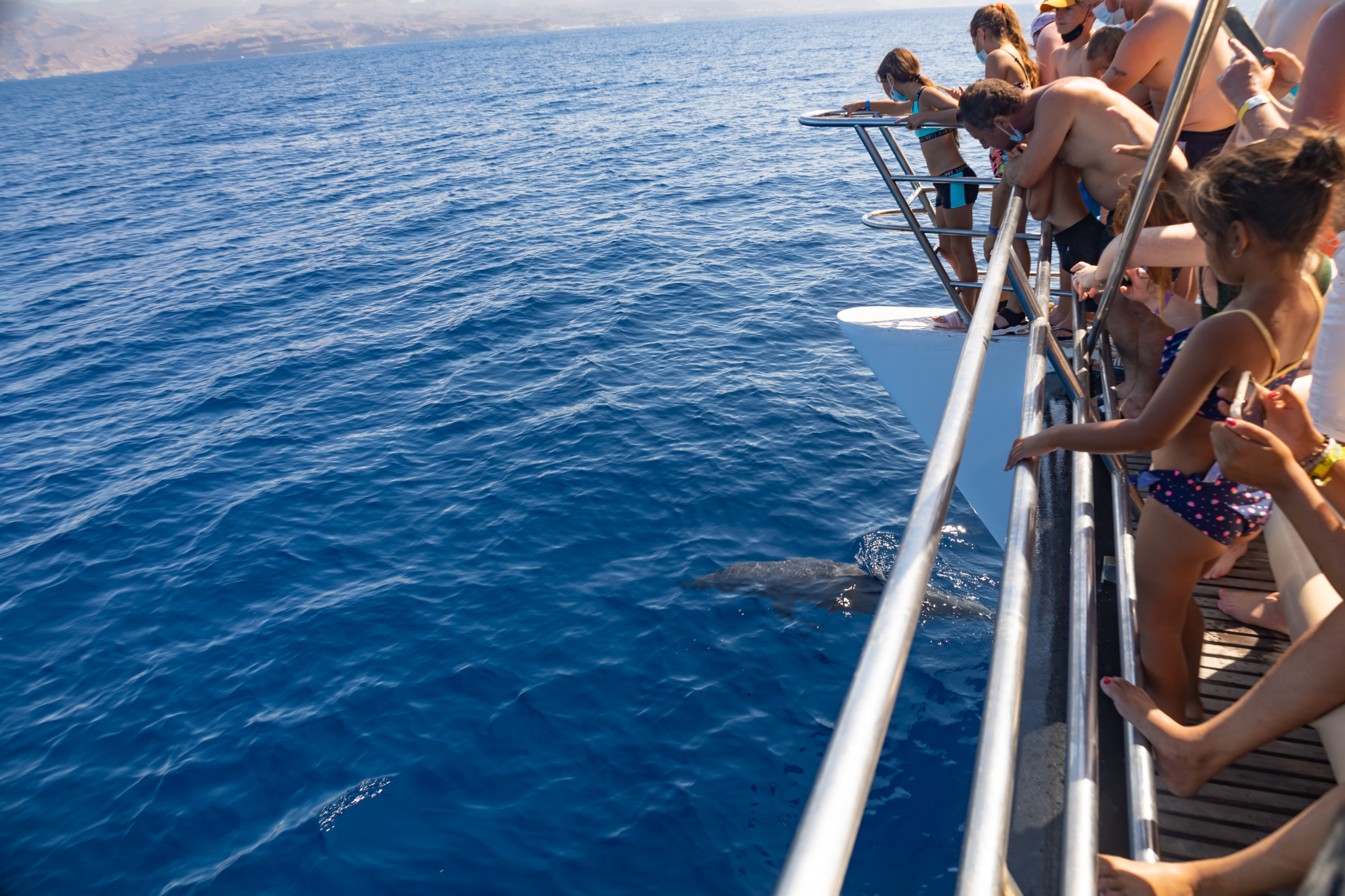 South Gran Canaria is a paradise for dolphins and most people see them on their first trip on a dolphin-watching boat. The most common are bottlenose dolphins (Flipper), but you also get spinner, common, striped and Risso's dolphins. Short-finned pilot whales are pretty common too and there's always the chance of seeing a visiting baleen whale like a minke or sei whale. The mysterious beaked whales pop up every year and turtles are common.
Alex says: Pick a boat that gives you a chance to relax and have a swim afterwards. A smaller boat offers a much quieter and more intimate dolphin experience.
Glass-bottomed ferry trips between Gran Canaria marinas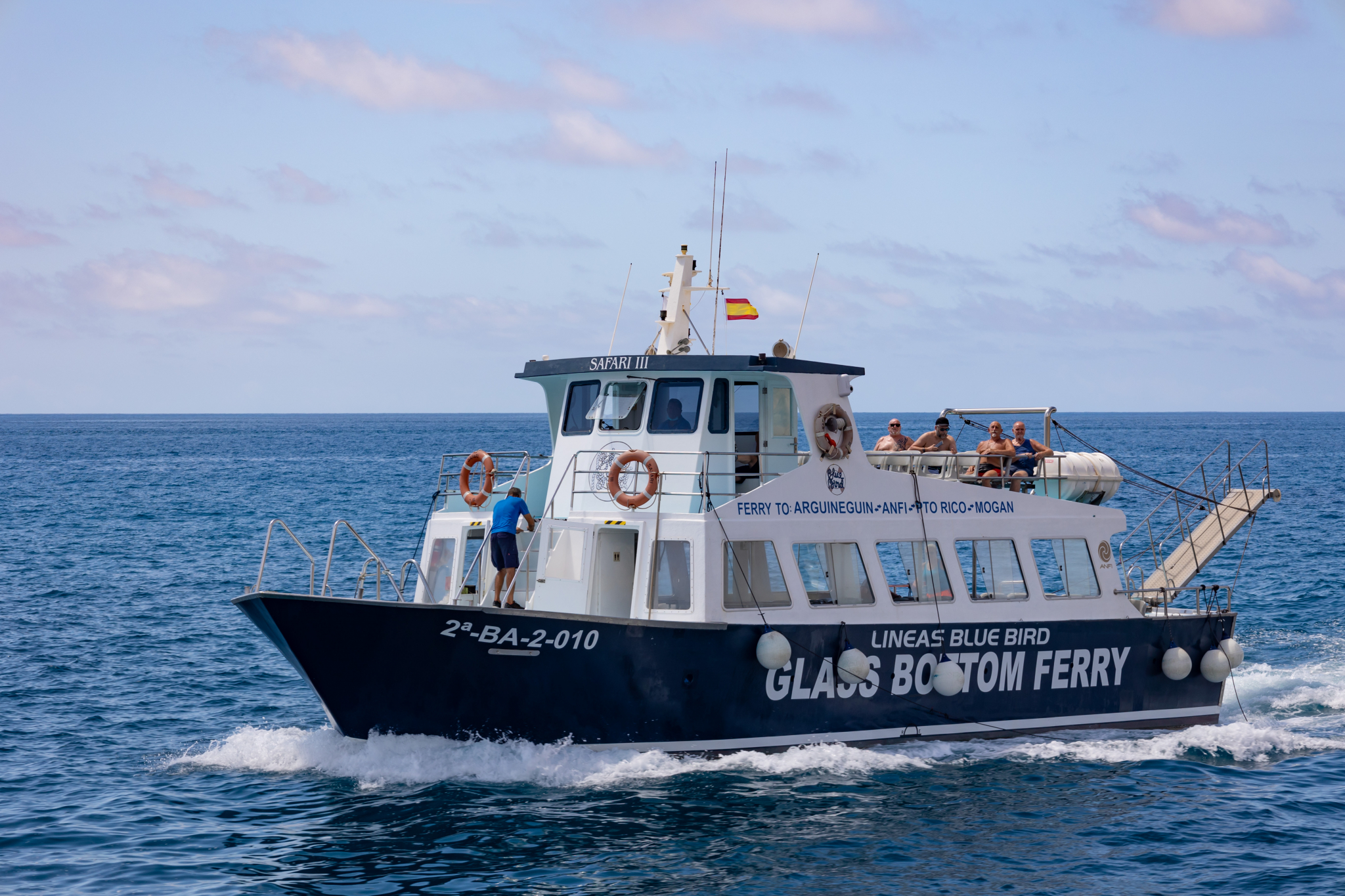 Two ferry companies run between Puerto de Mogán, Puerto Rico, Anfi and Arguineguin on the south coast of Gran Canaria. Choose the glass-bottomed Blue Bird company boats for a chance of spotting barracuda, turtles, rays and even dolphins.
Ferries run all day and round trip prices range between €5.50 and €19 per person depending on distance.
Fishing for marlin, tuna or wreckfish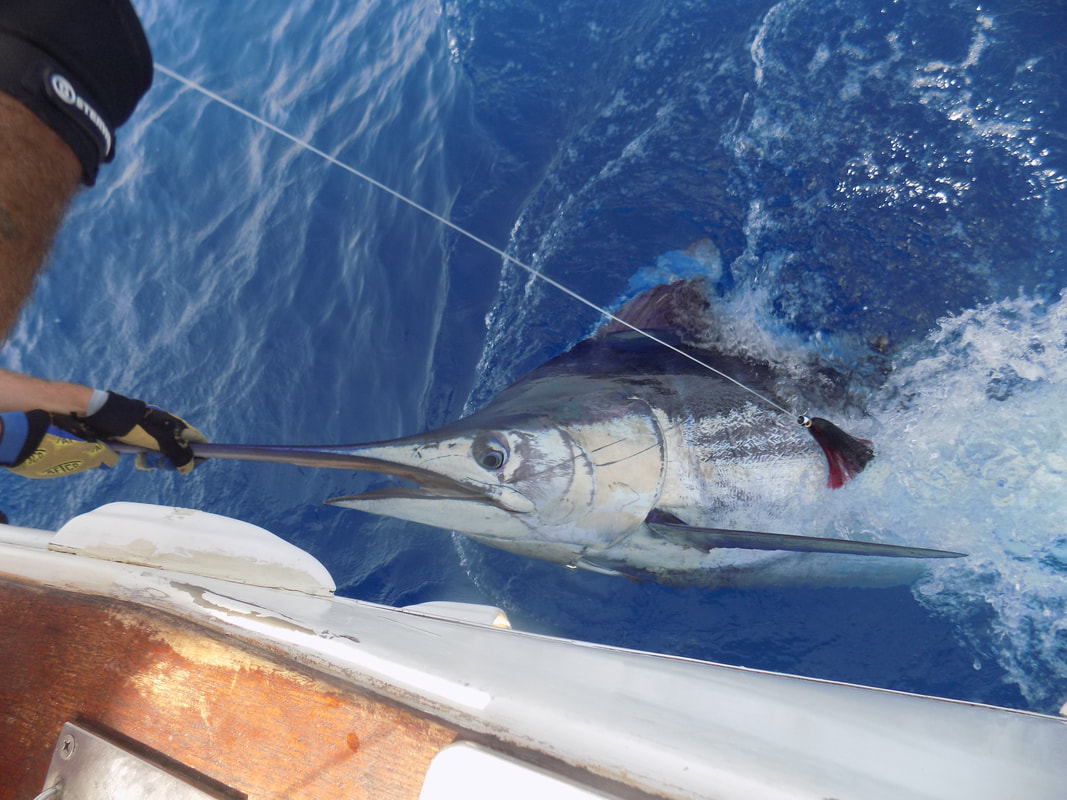 Gran Canaria's deep waters are full of big game fish like wahoo, tuna and marlin. If you fancy a go at catching a truly big fish, then head to the Puerto Rico, Puerto de Mogán or Pasito Blanco marina and book a spot on a big game boat.
If the tuna are running, or the marlin are close to the shore, you have a very good chance of seeing some action. Island boats regularly land big tuna, billfish, barracuda, dolphin fish and wahoo. All boats catch and release all the marlin and bluefin tuna that they catch.
Nothing beats the thrill of landing a marlin or a big tuna, but you can't guarantee action on a given day. If you want to go fishing and be sure to catch fish, then choose a bottom fishing excursion. You'll get bream, mackerel, grouper, snappers, moray eels and maybe even a stingray or small shark.
We like the Blue Marlin 3 boat because it publishes a daily diary of what it catches on its website.
Alex says: Ask what depth the boats fish at as it's far more fun to fish in 35 metres of water than in 70 metres; much less winding in.
Yacht trips in south Gran Canaria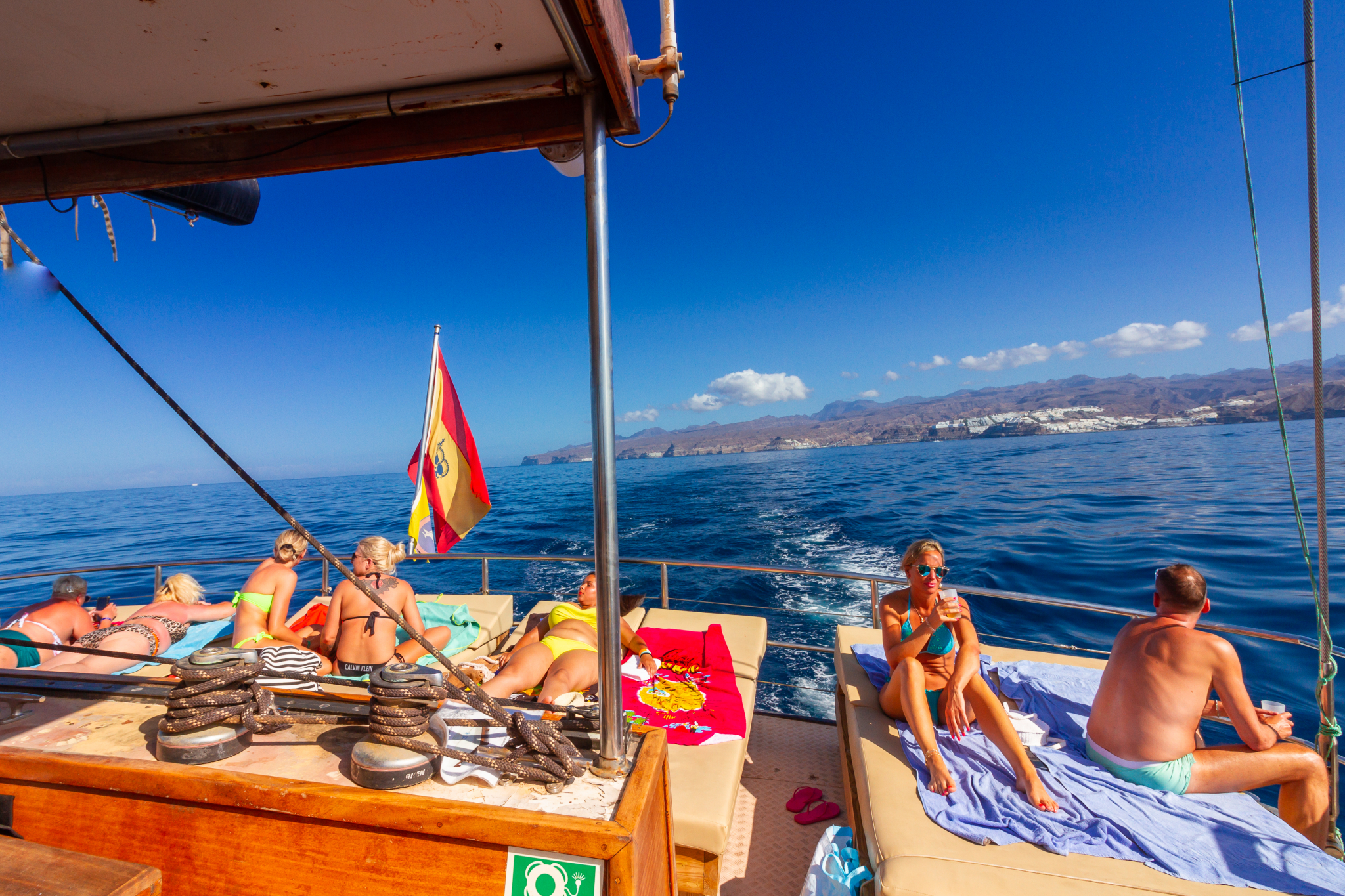 There are plenty of boats leaving Puerto Rico's Puerto Base every day. Some are fun boats, others go for the relaxing day at sea feel.
Important factors to consider are what food and drink you get for your money, how many people are on the boat with you, where the boat goes and what you can do as extras (banana boat rides, swimming, etc).The classic Gran Canaria boat trip is the Supercat with its large sun deck and swimming platform.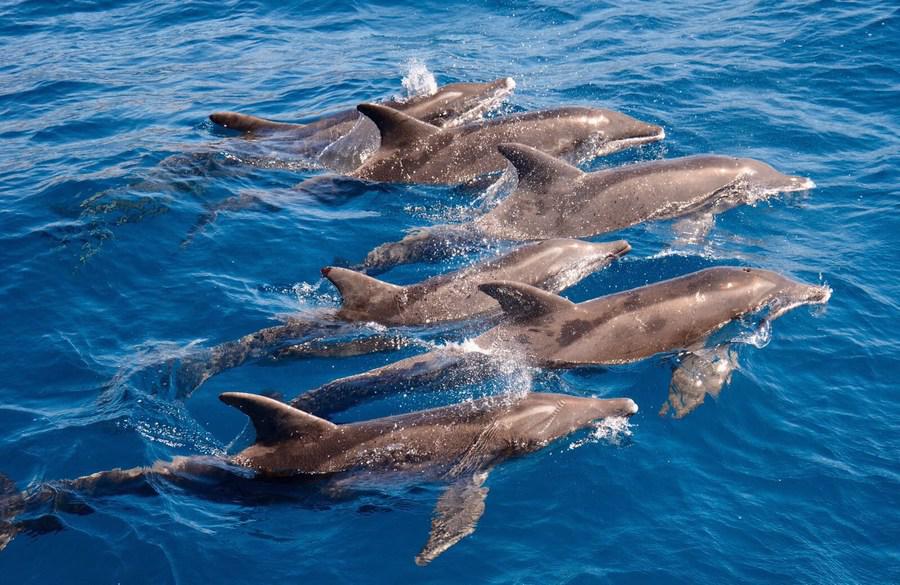 The Afrikat based in Puerto Base in Puerto Rico gets consistently excellent Tripadvisor reviews. It is like an upmarket version of the Supercat.
For a chilled out boat trip with no queues for drinks in south Gran Canaria, book the Exclusive Boat. This is Gran Canaria's most relaxed catamaran ansd the one that everyone loves the most.
Lex Says: You can book all of Gran Canaria's best boat trips using our super-easy Whatsapp booking form
Go wherever you want with your own boat and captain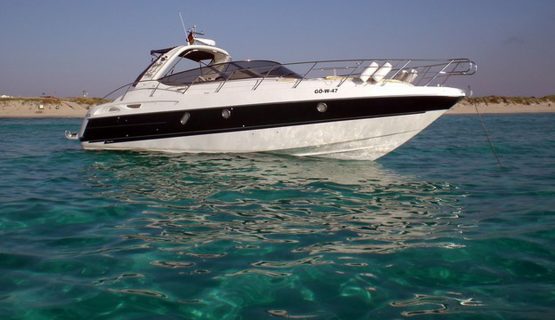 Organisaed boat trips are a whole load of fun but sometimes you just want to have the whole place to yourself. With this luxury speedboat charter, you get the whole boat plus a skipper to do all the work while you just sit back and chill.
The Yellow submarine
For an underwater experience but no soggy wetsuits, take a dive with the yellow submarine in Puerto de Mogán. You'll see tons of fish and a genuine wreck as well as a fantasy Greek temple ruin. You don't get many chances to go in a submarine and especially not a yellow one so this is a must book Gran Canaria day trip.
Ferry to Tenerife or Fuerteventura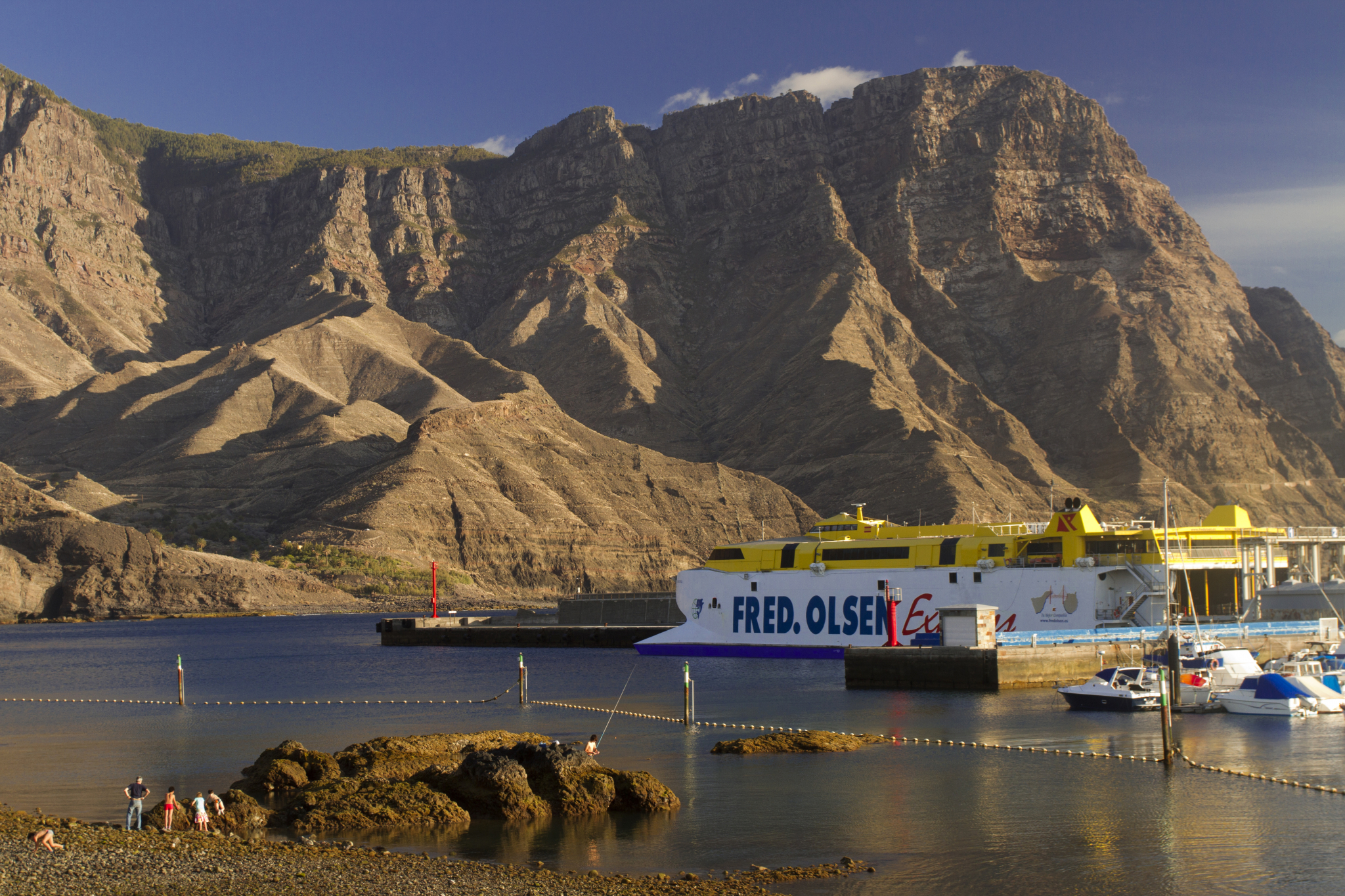 Most visitors to the Canary Islands stay on the island they fly to. However, you can get the fast ferry from Gran Canaria to Tenerife for a day trip if you get up early enough. The fast ferry leaves from Puerto de las Nieves, in the northwest corner of Gran Canaria and goes to Tenerife's capital Santa Cruz. The trip takes an hour.
Check your hire car insurance policy, as some won't cover you on another island. If you don't take a car, Santa Cruz's centre is small enough to explore on foot and the bus station is a few minutes walk south of the ferry terminal.
Also consider the fast ferry from Las Palmas to Fuerteventura. It takes four hours so, while you can sail both ways in a day, it's best to stay over for a while.
Lex says: Fred Olsen catamarans are the fastest inter-island ferries but Armas boats have open decks.
For the adventurer: Join the ARC Race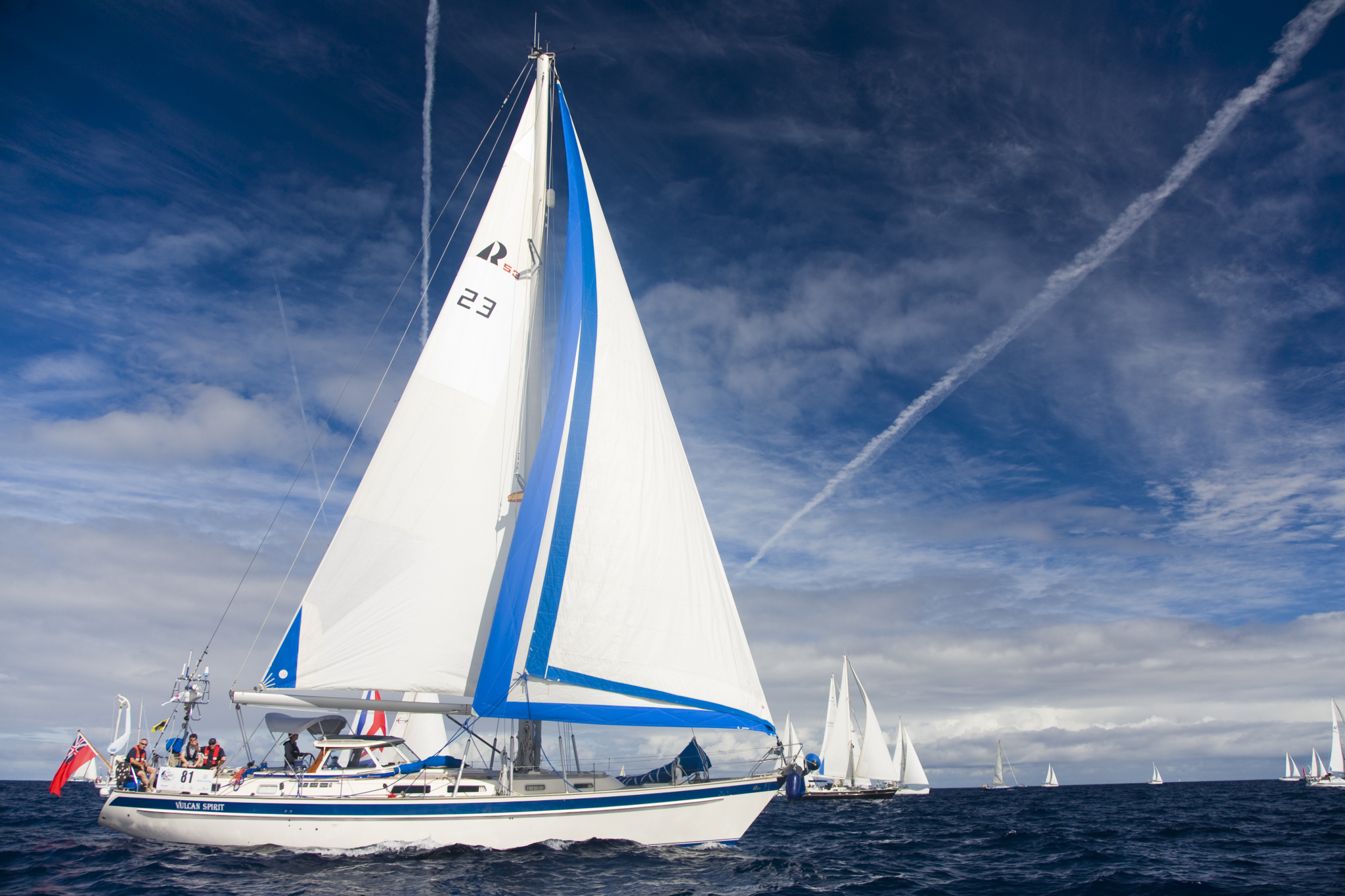 For an epic boat trip starting in Gran Canaria, join the crew of a yacht in the annual ARC race. True adventurers hang around Las Palmas marina in November and find a place on one of the 300 yachts that sail from Las Palmas to St Lucia.
Lots of sailing boats accept crew, but sailing experience helps you get on board. The trip takes about three weeks if you joining a cruising yacht, much less if you are on one of the serious racers. Getting back to Gran Canaria from the Caribbean might be more challenging: The race only goes one way.