Las Canteras
Las Canteras is so long that the locals treat it as several separate beaches, each with its own name and traditions. Overall it's the best city beach in Europe and, we believe, in the world.
Playa Grande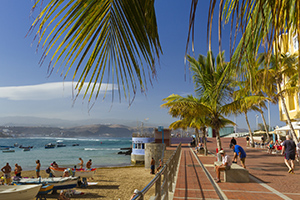 The northern end is called Playa Grande (Big Beach) and is wide and calm thanks to an offshore lava reef that protects it from the waves. There are sun bed and parasol concessions all Playa Grande. Choose it for calm waters, toilet facilities and guaranteed space on the sand.
Playa Grande is fringed with coconut palm trees and has dozens of bars and restaurants along its promenade.
Playa Chica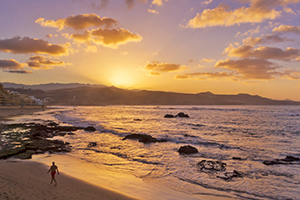 In the centre of Canteras Beach this intimate little beach has no sunbeds or parasols but does have several bars and restaurants with outdoor tables overlooking the sand. The water in front of Playa Chica is great for snorkelling as it has a mini-reef full of colourful fish.
Playa Chica has a great local feel and gets the sunshine all day long.
Peña de la Vieja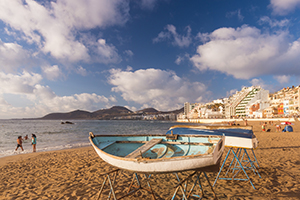 Just south of Playa Chica is the Peña de la Vieja section of Las Canteras beach named after a small rock that sticks up half way to the reef. The La Peña section of the beach has one sun bed concession and some fishing boats parked up on the sand. It's also great for snorkelling.
At its northern end is El Charcon, a sandy area sheltered by rocks that is perfect for swimming at low tide.
Peña de la Vieja is local and has great restaurants overlooking the sand.
La Cicer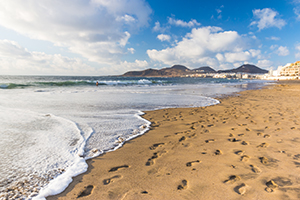 The southernmost section of Las Canteras is called La Cicer and is the sporting end of the beach. Locals gather here to play beach tennis and football at low tide and to surf La Cicer's reliable waves (La Cicer has no offshore reef).
La Cicer Beach changes colour depending on the tides and the weather. One day it can be golden and the next the sand changes to jet black or vanishes altogether leaving only pebbles.
Las Cicer is the best place to take surfing lessons in Gran Canaria thanks to its consistent waves and professional surf schools.
Alex Says: See this guide to Choosing you perfect bit of Las Canteras beach
El Confital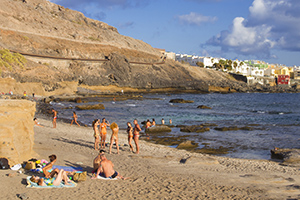 El Confital is home to one of Europe's best surfing waves but has enough rock pools and sheltered inlets for everyone to swim. It is mostly pebbles and smooth rocks but there are patches of yellow sand during the summer. Confital gets more sun than next-door Las Canteras beach and is the best spot in the city for sunset views.
Twenty years ago El Confital, known as El Confi to Las Palmas locals, was a shack city but today it's a natural beach with a wooden boardwalk and no bars or restaurants. Toilet facilities and lifeguards are only available during the summer.
Unless you happen to be in El Confital during school holidays or one of the annual surfing championships, it's a quiet and local spot. During the week, you may well have it all to yourself except for the odd jogger and surfer.
Drive to El Confital down a dirt track about 1km long or park in La Isleta and walk along a safe cliff path to the beach. To walk to El Confital just walk north along the promenade that runs along Canteras beachfront until it ends. Then follow the track and the metal path until you get to the shore. From La Puntilla square at the far north of Las Canteras, it's about 20 minutes walk. Take food and water as there is nothing available once you get to the beach.
El Confital is nudist from the end of the wooden boardwalk.
Alcaravaneras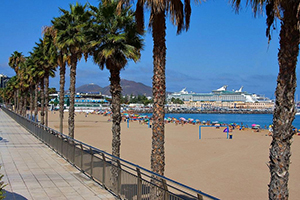 Alcaravaneras Beach sits right in the centre of Las Palmas' busy Puerto de La Luz port with a marina on either side and the huge shipping cranes directly in front. It's a wide sweep of clean, golden sand that only gets busy during the holidays. Some locals won't swim at Alcaravaneras because it is inside the port but the water is clear and safe.
Alcaravaneras is a great beach for a game of beach football or a quiet sunbathe.
La Laja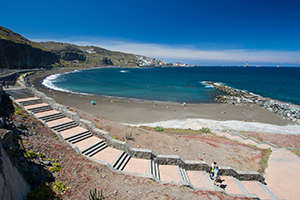 La Laja is right on the south-eastern fringes of Las Palmas city and is often completely empty except for the seagulls. While it's technically a nudist beach, most people here wear clothes. Take care in the water on rough days as the currents get strong.
La Laja's giant bronze sculpture of Triton welcomes every visitor driving into Las Palmas and is right next to the main car park for the beach. Look out for it just after the power plant on the coast road into the city.
Go to La Laja for bodyboarding and great views of Las Palmas city and port.
San Cristobal
This little village on Las Palmas' south-eastern fringe has two separate and very different beaches. The main San Cristobal beach is a long pebble beach that get big waves. The safest place to swim is in the shelter of the old fort at its northern tip.
San Cristobal's other beach is a tiny patch of golden sand sheltered by the little harbour at the southern end of the village. Known as El Rincon it is only busy at weekends and is calm enough for safe swimming.
Go to San Cristobal for the village feel and great beachfront promenade.
Lex Says: See our Ultimate Beach Guide for info on all of Gran Canaria's beaches