Did Elizabeth Taylor and Richard Burton buy a banana plantation in south Tenerife?
Hollywood's golden couple visited Tenerife in 1970 and stayed in Los Cristianos. There were wild rumours for years afterwards that they loved it so much that they secretly bought a mansion and a banana plantation. There was no truth in them.
According to witnesses, Taylor and Burton came because they were friends with a local waiter and flew out to see him. There is also no truth in the story that Playa de las Americas' Veronicas Strip is named after Elizabeth Veronica Taylor.
Perhaps the biggest mystery about Taylor's time in Tenerife is why she was photographed with a spaniel on her head.
Why did Agatha Christie leave Tenerife and head to Gran Canaria?
Detective fiction's greatest writer was a tireless adventurer and went all over the world by ship and train. Mary Clarissa Agatha Miller, better known as Agatha Christie, was one of the first women to try surfing and got as far as South America and New Zealand. Oddly, she never made it to Belgium.
Agatha Christie spent a week in at La Orotava and Puerto de La Cruz in Tenerife in February 1927 but didn't like it very much because it was hard to swim off the rocks. She then got on the ferry and came to Las Palmas, describing it as "the ideal place to spend the winter".
She stayed at the Hotel Metropole in the Garden City, now part of the Town Hall. The writer enjoyed Las Canteras beach, wild and pristine in those days, and went on a trip to Agaete and Puerto de las Nieves.
Agatha Christie arrived in the Canary Islands just after the end of her first marriage. She was in debt, depressed and struggling to write. The islands had a positive effect and she quickly recovered her mojo. She finished 'The Mystery of the Blue Train' and started the short story 'The Companion', published as part 'The Thirteen Problems'. Several other books of hers are clearly inspired by the white houses and bougainvillea of Gran Canaria.
In the Companion, actually set in Puerto de las Nieves, one of Agatha Christie's characters mentions Gran Canaria, saying, "In many ways I enjoyed the life out there very much. The climate was mild and sunny, there was excellent surf bathing..."
She never came back to the Canary Islands; Hardly surprising because she once said, "never go back to a place where you were happy, if you do you will ruin it".
Alex says: Was David Bowie arrested on the road between Galdar and Las Palmas? We think so, although nobody is telling. Murky legend has it that the Thin White Duke was arrested when parked by the roadside (waiting for his pregnant wife to have a pee). He got shirty with the police and they refused to believe who he was. After a visit to the station, Bowie was free to go on his way.

Why was he in Gran Canaria in the first place? We're looking into it.
What did Winston Churchill paint in Gran Canaria?
Britain's bulldog first came to Gran Canaria in February 1959 when he was 84. He must have been familiar with the island earlier because his mother Lady Randolph Churchill visited in 1900 on the way to South Africa. The British war office also drew up detailed plans for an invasion of Gran Canaria during WW2. The invasion never happened because Franco refused Hitler's request to annex Gibraltar.
Churchill arrived on board Aristotle Onassis' luxury yacht, Cristina. He spent a night in Lanzarote and then visited Tenerife before arriving in Las Palmas. In Gran Canaria h visited Teror and Arucas, and met local dignitaries and the British community before sailing to La Palma two days later. There are photos of Churchill painting in Gran Canaria, although his actual watercolours of the island seem to have disappeared.
Which Beatle never got sunburned on Tenerife?
Paul McCartney, George Harrison and Ringo Star came to Tenerife in 1963, staying in Puerto de la Cruz. John Lennon didn't come because he went to Barcelona with band manager Brian Epstein instead. The three Beatles stayed in a German friend's family cottage on the island.
They got very sunburned and were upset that nobody knew who they were. A few months later Beatlemania exploded and none of The Beatles every came back to the Canary Islands.
Alex Says: British writer Peter Stone met The Beatles in Gran Canaria in 1963. But they were meant to be in Tenerife. Here's how we think it happened.
Did Robert Maxwell really fall off his superyacht?
Did Captain Bob Bob Bob slip and fall off his superyacht, which he called the Lady Ghislaine and paid for by plundering his employees' pensions, or did someone throw him overboard?
Everyone from the CIA to Mossad have been linked to Maxwell's soggy demise off the Canary Islands on November 5th 1991, but so far none of the facts have emerged. What does seem to be clear though, is that there were lots of people out there who wanted him to disappear.

Did U2 visit Tenerife for some R&R in 1991?
This legend is easy to confirm because photos of the band at the 1991 Santa Cruz carnival are on their Achtung Baby album cover. The band spent two weeks in Tenerife during February 1991 on break during a European tour. The initial recording sessions in Berlin were fraught and the band nearly split up, so they took time out to relax and mess about in the sunshine. They were even photographed in drag In Tenerife. Further photos that appear on the album sleeve are from San Andres village just north of Santa Cruz (the cemetery and Las Teresitas beach).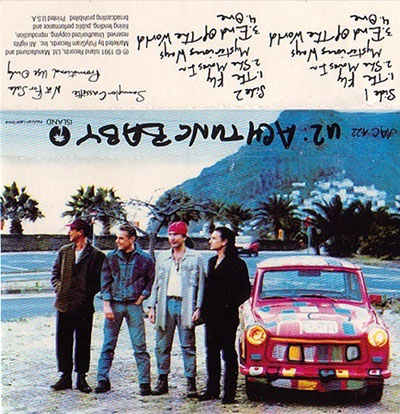 U2 even brought their famous multi-coloured Trabant car to Tenerife for the photoshoots. It appears in one of the photos with the Las Teresitas palm trees in the background.
The break in Tenerife seems to have worked because U2 finished Achtung Baby during a second set of recording sessions in Dublin between February and June 1991.
Did Omar Sharif really lose his Lanzarote house in a bridge game?
Omar Shariff bought the sprawling Lagomar mansion, built in an old quarry at Nazaret, Lanzarote, in 1973. He owned it for less than 24 hours, then lost it in a game of bridge; to his real estate agent; who also happened to be European bridge champion. How's that for a Hollywood legend?
Is it true? Nobody is sure. Maybe everybody present was too drunk to remember. All we know is that Sharif never came back to the Canary Islands, but did get much better at bridge.
Did the supermodel attempt suicide in Las Palmas?
Naomi Cambell stayed in Las Palmas, split up with her boyfriend and accidentally overdosed on pills mis-prescribed by a local doctor. Or she deliberately took an overdose. The Spanish police report, complete with witnesses, is clear, but Ms Campbell has always stuck to her story. The truth is that nobody really cares.